December 13, 2020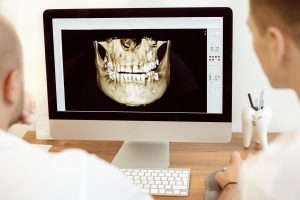 Technology and emerging innovations transform all aspects of our lives, so why wouldn't your dental care be any different? Dentistry is always diversifying, allowing your dentist to preserve natural teeth for longer than ever. Although you'll see many changes over the years; however, here are the top 5 new dental trends you can expect to see over the next decade.
1. Artificial intelligence
Robots have become more complex, making our lives easier in several ways. As technology gets smarter through artificial intelligence, dental services will also be enhanced. One area you can already see the impact is through the precision of your care, like digital impressions and the CT cone beam scanner. As technology continues to improve and adapt, you'll benefit from an unmatched level of precision when taking scans, creating restorations, designing aligners, and much more. Your dentist will also have the capabilities to identify a wider variety of oral pathologies.
2. Standardized Systems
Nowadays, patients have more options than ever when it comes to plans and providers. Although it gives you more options, it creates chaos. As dental offices look to simplify dentistry, you'll see more people maximize their annual benefits to enjoy affordable services. There will be improved training opportunities for your dental team to help you make the most of your insurance benefits to invest in your oral health.
3. Hygienist Responsibility
Your hygienist is an invaluable asset to your dental team. As general supervision laws are expanded, your hygienist may be able to focus on Phase 1 / 2 of dentistry. As a result, your dentist will have more time to allocate to 3 phase treatments, like restorations. Overall, your hygienist can play a larger role in preventive, diagnostic, and restorative care.
4. More Payment Options
If you're worried about a large bill, you don't need to skip appointments with your dentist in Bothell any longer. Over the next 10 years, you'll have access to a variety of purchasing patterns, like streamlined payment models. You'll have more freedom and security to find the affordable services you need for a healthy smile.
5. Mobile Dentistry
Tele-dentistry is becoming more common for consultations and follow-ups, especially amid the COVID pandemic. As digital communities continue to grow, you'll have more options when Googling, "where is a dentist near me?" You'll have more locations, like mobile clinics and pop-ups, adding a higher level of convenience, so you can see your dentist regularly.
As new methods, techniques, and technologies revolutionize the dental field, your chairside experience will change in several ways. Not only will you enjoy quicker, more accurate treatments, but also more affordable services to maintain optimal oral health.
About Dr. Henry Hsue
Dr. Hsue earned his dental degree at Boston University School of Dental Medicine. He has completed advanced training in many specialties, like adult orthodontics, implants, and TMJ disorders. His office embraces the latest technologies to deliver superior services. If you're ready to enjoy state-of-the-care, contact our office for an appointment.
Comments Off on 5 Emerging Dental Trends Transforming Your Care
No Comments
No comments yet.
RSS feed for comments on this post.
Sorry, the comment form is closed at this time.