Six Month Smiles™ for Bothell Residents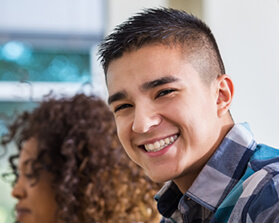 When you're young, the answer to achieving a healthier, straighter smile is simple: metal braces, typically worn for 2 to 5 years. However, this is usually not a very appealing options for most adults. Six Month Smiles™ is a cosmetic braces system designed specifically for adult patients who wish to improve their bite and their smile without having to go through traditional braces. It uses a specially designed clear braces and white wire system that is much less noticeable than metal braces. And best of all, typical treatment time takes about 6 months to complete. So you can have a brand new smile by your next cleaning appointment. With the help of Six Month Smiles™, Dr. Henry Hsue and the rest of our team here at Annigan Dental can provide quality results in record time!
How does Six Month Smiles™ work?
After we've determined that you're a viable candidate for the procedure, our team will take detailed imprints of your teeth that will be sent to the Six Month Smiles™ lab so that they, in turn, can create personalized adult braces and tray kits that will make their application simple. With thin, tooth-colored wires and clear brackets, they're barely noticeable, and by focusing the patented, shape-memory design on the teeth that show when you smile, treatment is quicker and smoother than ever. There are no aligners to keep up with, and you only need to attend brief, monthly appointments with Dr. Hsue so that he can check your progress and make any needed adjustments for comfort. Like the name suggests, most cases complete in only six months, with some taking anywhere from four to nine months.
For those who prefer no braces at all, a removable clear tray system called Invisalign™ is also available at our Bothell, WA practice. Once we've closely evaluated your unique smile, Dr. Hsue and our team can sit down with you and discuss both in detail, helping you select the one that works best for your needs. Contact Annigan Dental today if you have any questions about Six Month Smiles™, or if you'd like to schedule a time for your free consultation. Our office also serves the areas of Woodinville, Kenmore, Lake Forest Park, Kingsgate, Kirkland, Mill Creek, and beyond. We look forward to meeting you!