Dental Sealants from the Dentist in Bothell
Cavities happen when decay-causing bacteria, acids and other toxins eat away at the enamel of your teeth. But what if you could stop these troublemakers from even reaching the surfaces of your teeth? With dental sealants, you can do just that. Dental sealants, or just sealants, go on as a liquid but dry to create a solid barrier on the enamel surface of your teeth. At Annigan Dental, the dentist in Bothell, WA, Dr. Henry Hsue often uses dental sealants to protect children's molars, because they are usually more deeply grooved and kids tend to have a tough time keeping their teeth clean. However, adults are not immune to tooth decay, so Dr. Hsue may also recommend them for older patients, especially those who may be prone to tooth decay.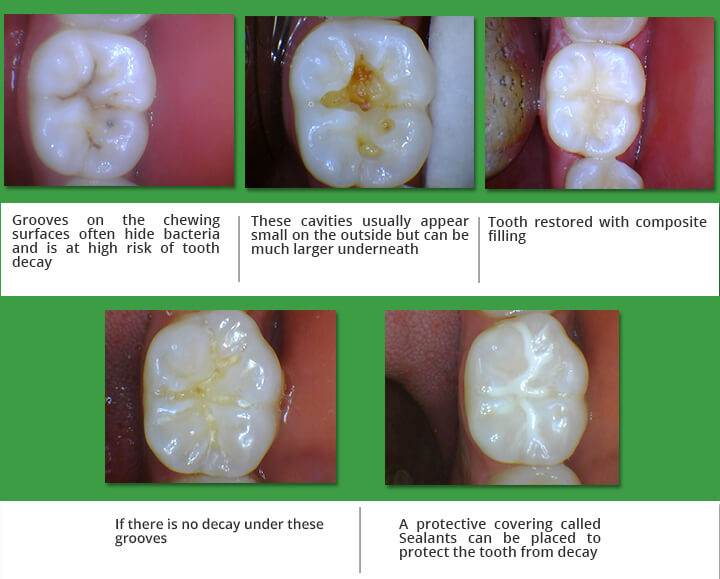 How are Dental Sealants Placed?
If you need dental sealants, the process is really quite simple and can usually be completed in just a short time at the conclusion of one of your regularly scheduled dental cleanings and exams.
After the dental hygienist has cleaned your teeth, they are rinsed and thoroughly dried. Then, a mildly acidic solution is briefly applied to the biting surface of each tooth that will have a sealant. This solution etches or roughens the surface so the dental sealants adhere more strongly. After just a few seconds, the etching solution is removed and your teeth are once again dried.
Now, it's time for the sealants. The liquid dental sealant is essentially painted on to the chewing surface of each tooth. We use a special curing light to help the sealant dry quicker. Once the sealants have hardened, you'll be able to chew and eat a normal diet immediately after this treatment.
Dental sealants are designed to withstand the normal pressures of biting and chewing and can be expected to last for many years. We'll also check the integrity of your sealants are checkups and replace any that are missing or deteriorated.
Oral Hygiene After Dental Sealants
Dental sealants are in no way a replacement for good oral hygiene care at home and in our office. You'll still need to brush your teeth at least twice a day and floss daily. Dental sealants, after all, only cover the biting surface of teeth they are applied to and of course they offer no protection to your other teeth. Therefore, maintaining a stringent at-home hygiene routine is as important as ever.
Dr. Hsue, the 98011 dentist and his professional staff at Annigan Dental want you and your family member to enjoy years of healthy and happy smiles. Dental sealants can help you win the daily battle against tooth decay. Call our office in Bothell, WA, to learn more about this and our other preventive dentistry services.