Our Preventive Dentistry in Bothell, WA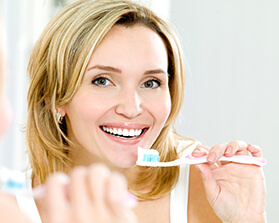 Many oral health problems can become severe simply because the patient waited too long before calling a trusted dentist. If you've struggled with this in the past, please consider paying a visit to Annigan Dental in Bothell, WA. We offer patients a warm, modern office atmosphere, exceptional services that will fit your budget, and technology designed to make your treatment smoother and more comfortable than ever before. With the help of preventive services from Dr. Henry Hsue and our entire team, your issues won't just be treated – we work to prevent them from happening in the first place.
Dental Sealants
The chewing surfaces of your back teeth are the most likely area to develop cavities. People often struggle with keeping the deep grooves and pits on their back molars free of decay due to its ability to hide food and bacteria from toothbrush bristles. Thankfully, dental sealants can add an extra layer of valuable protection. By painting this tough plastic material directly onto teeth and "sealing" the, high risk areas, those teeth become much more resistant to the development of cavities. This is the most cost-effective preventive measure that can help maintain the health of those teeth and significantly minimize the risk of developing cavities and more serious problems
Nightguards
Do you constantly suffer from severe headaches, facial pain, or teeth that just look more and more worn down? These are all common signs of bruxism, also known as teeth grinding, which is a common habit that plagues countless patients as they sleep each night. If you're looking for much-needed relief, please pay our team a visit at Annigan Dental. We offer custom-made nightguards that can protect your teeth from the ill effects of grinding, resulting in a much more peaceful, pain-free night. Dr. Hsue also offers sportsguards for athlete patients who need to protect their smiles during big games.
Additional preventive dentistry treatment options we offer include:
At Annigan Dental, we're always working hard to give our patients new reasons to smile. Contact our Bothell, WA practice today if you have any questions about our preventive services, or if you'd like to schedule your first appointment with Dr. Hsue. Our office also welcomes new patients from the nearby areas of Mill Creek, Kirkland, Woodinville, Lake Forest Park, Kenmore, Kingsgate, and beyond. We hope you'll choose to visit us for many years to come!