All-Ceramic Dental Restorations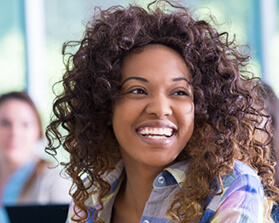 Here at Annigan Dental, we don't believe in making patients choose between treatment options that revitalize their oral health and ones that help them maintain a natural, aesthetically pleasing look. Instead, you should be able to enjoy both at once! That's why Dr. Henry Hsue and the rest of our team specialize in providing crowns, inlays, onlays, and bridges that are precisely crafted from quality ceramic and other tooth-colored materials. Here in Bothell, WA, we hope to help you enjoy your ideal smile for years to come, and our office even provides a one year guarantee for all dental work.
All Ceramic Crown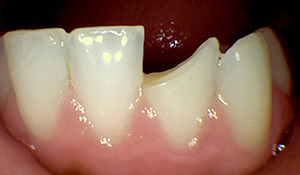 Before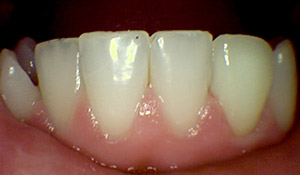 After
Broken tooth restored with a natural looking porcelain crown
All-Ceramic Crowns and Bridges
All-ceramic crowns are the ideal alternative to more traditional materials, and they offer patients improved biocompatibility and durability. The result is so lifelike that the restoration even has all the translucency, luster, and reflection of natural enamel. Plus, patients don't need to worry about dark metal bands forming around the crown over time!
Metal-free bridges are also available as an ideal reconstructive solution for patients who aren't good candidates for dental implant placement.
All-Ceramic Inlays and Onlays
Inlays and onlays are used to replace a portion of a tooth that's been lost to injury or decay, restoring the damaged area while also working to continually strengthen its structure. Because of the stronger, more biocompatible material, all-ceramic inlays and onlays last much longer than regular fillings without causing irritation to your gum tissue. They can also restore most of your chewing strength while keeping more of your natural tooth structure intact compared to traditional crowns.
Prime candidates for inlays/onlays include patients with teeth that are made up of filling material by one-third or more, patients with cusps of teeth that need to be supported, or patients who desire a more conservative treatment option than dental crowns.
Giving our valued patients quality care at a good value is our top priority at Annigan Dental. With the help of our modern, eco-friendly office, skilled and friendly staff, and wide variety of available services for virtually every dental need, we strive to exceed your expectations. Contact our Bothell, WA office today if you'd like to talk to a team member, or if you're ready to schedule your first appointment. We also serve the areas of Lake Forest Park, Kenmore, Kingsgate, Woodinville, and beyond.