Dental Checkups and Cleanings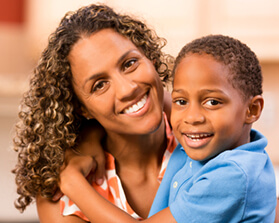 At Annigan Dental, we strongly recommend that patients of all ages attend regular check-up and cleaning appointments at least twice a year. There are many possible oral health problems that are difficult for an untrained eye to locate, even when practicing diligent brushing and flossing at home. These routine visits allow Dr. Henry Hsue and our team to form a complete picture of your oral health, work with you to create a customized treatment plan, and leave you feeling refreshed and more confident about your smile than ever before.
Cleaning Case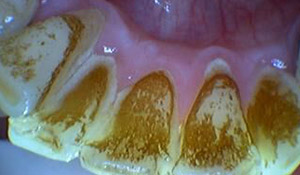 Before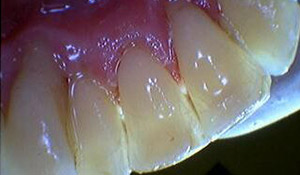 After
Heavy staining, but otherwise healthy gum tissue. This can be addressed with a routine dental cleaning. After photo: Same appointment, after cleaning and polish.
In-Depth Evaluations
During the evaluation portion of your appointment, Dr. Hsue and his staff will closely and carefully inspect every aspect of your oral health in order to determine if there is any current damage or potential issues that need to be addressed. This includes the surface of each of your teeth, your gums, your soft tissue, your bite, and more. We'll perform an oral cancer screening as well, and digital X-rays will help us determine if there are any areas of concern that we can't see with just our naked eye. Many health conditions can manifest signs that may be detected during a dental exam. Serious health concerns such as heart disease, sleep apnea and diabetes are routinely identified based on your oral condition and our team will help you identify any potential risk factors and how you can minimize risks of developing more serious health complications by properly treating the associated oral health issue.
Refreshing Hygiene
Over time, plaque and tartar form strong bonds on the surface of your teeth that can become impossible to remove without the help of a trusted professional. Here at Annigan Dental, our team thoroughly removes these potentially destructive bacteria at a cleaning appointment, leaving your teeth feeling polished and refreshed.
You deserve a smile that's at its very best, and our team here in Bothell, WA would love to help you achieve this goal. Our modern, eco-friendly practice offers patients comprehensive, high-quality services and the latest technology for a comfortable, convenient experience. We also see dental emergencies! Contact Annigan Dental today if you have any questions for our staff, or if you're ready to schedule an appointment. Patients from Mill Creek, Kirkland, Kenmore, Lake Forest Park, Woodinville, Kingsgate, and beyond are also welcome.