Our Bothell Emergency Dentist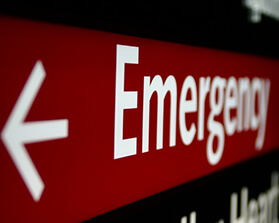 Dental emergencies can be a scary experience, and to make matters worse, they tend to occur at the most inconvenient times. It's important to remain calm when you or a loved one experiences severe pain or damage to one or more teeth. After all, time is of the essence in many cases. Please don't hesitate to contact Annigan Dental in Bothell, WA. Dr. Henry Hsue and the rest of our highly trained team can provide valuable guidance as you make your way to our location, and in virtually all instances, we're able to see emergency cases the very same day that they call. In the meantime, here are some tips for how to handle a few of the most common dental emergencies we see:
Knocked-Out Tooth
Gently rinse the tooth under cold water in order to clean any foreign debris away while also making sure to keep any pieces of natural tissue attached. Do NOT scrub the surface of the root and tooth. Then, place the tooth back into its original socket as carefully as possible, holding it there. If this just isn't possible, place it in a cup or plastic bag of milk and make sure to bring it with you as you travel to our office. Once you arrive, our team can determine if reattachment is possible. For the highest chance of reattachment you should come in within 1 hour of the accident.
Broken Tooth
Gently rinse the affected tooth with warm water and hold a cold compress to the appropriate cheek. This should reduce any uncomfortable swelling that may occur until you're able to reach our Bothell office. Delaying treatment on a broken tooth, even if there is no pain or other symptoms could potentially lead to more serious conditions such as infection or loss of the tooth.
Lost A Temporary Crown
Do you still have the crown? If the answer is yes, gently dry the affected tooth and apply a very small amount of toothpaste, dental adhesive, or dental wax to the area. Do NOT use glue or any type of non-dental adhesive in the temporary crown. Then, reattach the crown as carefully as possible. Contact Annigan Dental so that we can set up an appointment for Dr. Hsue to professionally reattach it.
Bad Toothache
Is it possible that an object stuck near the tooth could be causing the pain? Rinse your mouth thoroughly, and floss as well to dislodge any particles. If this doesn't relieve the discomfort, please contact us right away. (Also, we strongly recommend NOT placing an aspirin directly on your soft tissue, as this could cause damage.)
If the toothache is accompanied by a swelling of the face or neck that is visible when you look in the mirror, this is likely an acute abscess (infection) developing. If you cannot come in to see us, or if you are experiencing any other symptoms such as dizziness, difficulty breathing, severe headache, fever, vertigo, vision, hearing or trouble moving your eye please go to the ER for immediate medical attention as such infection can be potentially fatal if not treated right away.
Don't let pain and damaged teeth cloud your beautiful smile. Instead, trust it in the hands of our team here at Annigan Dental. We're dedicated to providing comfortable care that's advanced, personalized, and as exceptional as possible! Contact our Bothell, WA office today if you have any questions or concerns about our emergency services, or if you'd like to schedule an appointment. We also welcome new patients from the nearby areas of Kirkland, Mill Creek, Kenmore, Woodinville, Lake Forest Park, Kingsgate, and beyond.
Emergency Dentistry FAQs
Dental emergencies come in many different forms, which only makes them more difficult to manage if they occur. If you've never experienced a dental emergency before, your first thought might be to panic or go to the emergency room. Instead, simply give our practice a call and we'll schedule you for a visit and walk you through the steps to improve your condition. If you have questions regarding emergency care, please take a moment to read through our FAQ below!
Will I need a root canal for treatment?
Not necessarily. The only way to know for sure is to visit us for a detailed examination and X-ray. If a root canal is needed, it's because an infection or a severe amount of tooth decay is present in the center of the tooth. This is where the sensitive and vulnerable pulp and nerve endings are located. If you're experiencing a severe toothache as well as a fever, it's more likely that you'll need a root canal. The good news is we perform treatment right here in our office!
What if my toothache goes away? Should I still visit?
Many people believe that occasional toothaches are normal, but this is not the case. Even if your toothache does go away on its own, that doesn't mean the underlying problem that caused the toothache has magically gotten better. For example, you may still have untreated gum disease, tooth decay, or even an infection that could get worse and cause toothaches later. Get to our office right away the moment you notice chronic tooth pain.
How can I prepare for a potential dental emergency?
Dental emergencies are more common than you'd think, and that's precisely why it's important to be prepared in the event one does appear. After all, the last thing you want to be is caught off-guard. While you won't be able to treat the emergency on your own, you can make yourself more comfortable and improve your condition before you do arrive by keeping the following items in a ready-to-use dental emergency kit:
Our office phone number, which is (425) 549-9671
Painkillers (ideally ibuprofen)
Saline solution
Salt
Bottled water
Small container with a lid
Gauze pads
Disinfecting wipes and/or hand sanitizer
Hydrogen peroxide
Cotton balls
Clove oil (as a natural anesthetic)
Will my dental issue get better on its own?
It's extremely unlikely that your dental issue, whether it's a toothache, broken tooth, or oral infection will get better without professional intervention. Unlike a common cold or a minor cut or bruise, dental issues only get worse the longer they go without treatment because they are not able to repair themselves like other parts of the body can. You can take painkillers for now, but don't let that replace an emergency visit to our office.
If my child knocks out a baby tooth, is it still a dental emergency?
Yes! While baby teeth are meant to come out on their own, they are not meant to come out before they are ready. If your child experiences a lot of oral bleeding or discomfort after a baby tooth comes out, either as result of a bad fall or while chewing a very hard substance, treat their avulsed baby tooth the same way you would an adult tooth. That means calling our office for a same-day emergency appointment as well.