Dentures and Partials in Bothell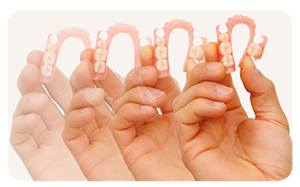 Missing teeth affect every aspect of a patient's life. Eating, speaking, and smiling are a challenge for those missing one or more teeth. At Annigan Dental of Bothell, WA, Dr. Henry Huse and his outstanding dental care team help patients restore their smiles with full and partial dentures.
Partial Dentures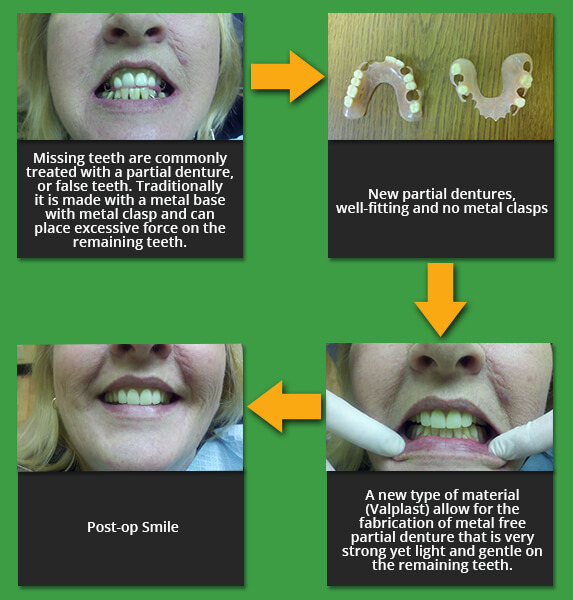 For patients missing several teeth, a partial denture, often simply called a partial, can fill in smile gaps. Traditional partials are created by bonding replacement teeth to a gum like base that clips to remaining teeth using metal wires or brackets. For patients who have sensitivity to metals, this is not a viable option. At Annigan Dental we offer metal free partial dentures. Made from flexible materials, these partials connect with teeth through suction or adhesive just like a traditional, removable full denture.
Full Dentures
Full dentures are used to restore chewing ability, vocal clarity, and facial shape to edentulous patients. Those in need of full upper or lower arch tooth replacement will be fitted for a custom dental prosthetic. A ceramist at our trusted dental lab crafts a dental prosthetic that replicates a patient's lost smile. The teeth are adhered to a base that mimics the look and feel of natural gum tissue. Once the full denture is crafted, our team will place them at the Annigan Dental office ensuring comfort and fit and making necessary adjustments. Most full dentures remain firmly in place thanks to natural section, but some patients prefer the added security provided by dental adhesives.
At Annigan Dental, we're always working hard to give our patients new reasons to smile. Contact our Bothell, WA practice today if you have any questions about dentures, partial or any of our restorative services, or if you'd like to schedule your first appointment with Dr. Hsue. Our office also welcomes new patients from the nearby areas of Mill Creek, Kirkland, Woodinville, Lake Forest Park, Kenmore, Kingsgate, and beyond. We hope you'll choose to visit us for many years to come!