Dental Implants in Bothell, WA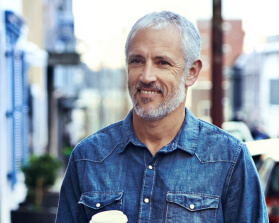 Tooth loss can happen for a variety of reasons, but what's always the same is how devastating the event is. Not only is your oral health badly damaged, but your self-confidence takes a blow as well, making it difficult to even talk and smile. Traditional tooth replacement options like dentures and bridges leave many patients wishing for something that more closely resembles their natural teeth. Today, that dream is closer than ever with the transformative power of dental implants. Here at Annigan Dental, Dr. Henry Hsue and his team can help you through the implant process as smoothly and comfortably as possible.

Your Implant Placement
The secret behind the success of dental implants is that they don't just include the part of your tooth that you see when you smile – they also replicate the tooth root, a vital structure that exists beneath the gumline and keeps your jawbone full and healthy. Once we determine that you're a viable candidate for implants, your treatment will begin with the surgical placement of your implant(s) (the new "root").
Your Implant Restoration
Once an appropriate amount of time has passed for your new implants to gradually bond with your new jawbone and your gum tissue to heal, you'll return to Annigan Dental so that we can design a brand-new, high-quality restoration that will attach to the implants, completing your new look. Single implants are replaced with all-ceramic crowns that have been precisely designed to complement your natural smile. In cases where several teeth or even an entire arch have been lost, a few implants can be strategically placed to anchor an implant-retained bridge or denture that offers much stronger function and natural look and feel when compared to traditional dentures and partial dentures.
Tooth loss doesn't have to be permanent; instead, enjoy the full, revitalized smile you deserve! Contact Annigan Dental today if you have any questions about our implant services, or if you're ready to schedule an appointment. We know that you'll enjoy spending time in our eco-friendly, modern office, and our comprehensive services provide exceptional quality at a reasonable value. Located in Bothell, WA, we also welcome new patients of all ages from the areas of Woodinville, Lake Forest Park, Kingsgate, Kenmore, and beyond.