Invisalign in Bothell, WA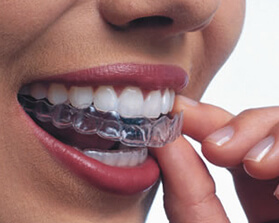 Many adults would love nothing more than to achieve a straight smile, but it can be tough to commit to years of wearing noticeable metal braces. After all, you're a professional who wants to maintain a polished appearance – not a child in middle school. Even with a clear braces system like Six Month Smiles™ there are still challenges in properly cleaning and flossing around the brackets that can be difficult for some. When you want straighter teeth without braces, Invisalign™ is a great option. Thankfully, Dr. Henry Hsue and the rest of our team here in Bothell, WA offer Invisalign™ as an orthodontic option with strong cosmetic benefits, allowing you to work towards beautiful improvements in the future without sacrificing your self-confidence in the present.
How does Invisalign™ work?
After taking detailed impressions of your teeth and sending the information to the Invisalign™ lab, you will be presented with a digitized model of your teeth where you can actually see its movements during the course of the Invisalign™ treatment so you can see your new smile BEFORE you decide on treatment. Once treatment starts, you will get a series of clear, customized aligners that represent a different stage of your smile as it moves into an ideal alignment. All you have to do is wear them in order, switching to the next one at a predetermined time. The most important part to achieving a successful outcome is proper usage of these trays, which are meant to be work as close to 24 hours a day as possible, only removed during eating and brushings. We also ask that you attend regular appointments with Dr. Hsue so that he can ensure you're progressing smoothly.
Invisalign™ offers patients several valuable benefits when compared with traditional orthodontics. There are no painful metal brackets or wires to worry about – only clear, smooth plastic that's comfortable and virtually unnoticeable to those around you. They're also removable, meaning that you can still enjoy your favorite foods and practice diligent oral hygiene at home without any limiting restrictions. Best of all, Invisalign™ treatment usually completes in 12-18 months, which is a definite improvement over the multiple years that regular metal braces often require.
Six Month Smiles™ is also available at Annigan Dental as a more sophisticated method for straightening teeth. Following an evaluation, our team will be happy to sit down with you and discuss the unique benefits of each of these treatment options so that we can select the one that's right for you. Contact our Bothell practice today if you have any questions, or if you're ready to schedule an initial consultation. We also welcome new patients from the nearby areas of Kingsgate, Kenmore, Lake Forest Park, Woodinville, and beyond.

Invisalign FAQs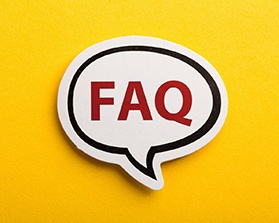 Do you want to know more about achieving a straight smile with Invisalign clear braces? Keep on reading! Our experienced and knowledgeable staff at Annigan Dental has compiled this list of frequently asked questions about Invisalign in Bothell. From how to keep your aligners clean to estimating the cost of Invisalign treatment, we cover it all! Having these facts at your fingertips will help you decide if Invisalign is the best course of action to meet your smile goals.
Once you feel ready to schedule an initial consultation with Dr. Henry Hsue, go ahead and contact us online or give us a call!
Are Invisalign Aligners Safe to Wear?
Yes! You can rest assured that wearing Invisalign aligners from a dentist in Bothell is perfectly safe. The medical-grade polyurethane plastic used to craft custom Invisalign trays has been approved by the U.S. Food and Drug Administration (FDA) for long-term use in the body. In addition, the aligners do not contain any Bisphenol A (BPA), parabens, latex, phthalates, glutaraldehyde or epoxy, according to the manufacturer.
Can I Smoke While Wearing Invisalign Aligners?
While technically possible, we strongly discourage smoking while undergoing Invisalign treatment. In addition to all the harmful health effects of regular tobacco use, smoking cigarettes will also quickly stain your Invisalign aligners. In addition, Invisalign treatment relies on a user consistently wearing their trays for as close to 24 hours each day as possible. Frequently removing your aligners to smoke cigarettes could seriously delay completion of your treatment or even lead to treatment failure.
How Do I Clean My Aligners?
Taking excellent care of your Invisalign aligners is critical to preventing oral health issues that could interrupt treatment. To prevent plaque and bacteria from building up on your aligners, try to clean them every time you brush your teeth – which should be at least twice a day.
Follow these steps when cleaning your Invisalign aligners:
Brush aligners gently using a soft-bristled toothbrush
Use soap and lukewarm water while brushing; avoid abrasive toothpastes
Do not rinse your aligners with hot water, as this can permanently warp the plastic
Give your aligners a final rinse with lukewarm water before placing them back in your mouth
How Much Does Invisalign Cost?
This is always one of the first questions we receive from patients about Invisalign treatment. The truth is that there is no one-size-fits-all cost for Invisalign – because every smile is different! Invisalign clear braces are customized for each individual to gradually readjust their unique set of teeth into a straighter smile. The final cost of your Invisalign in Bothell will depend on a number of factors, such as:
The overall complexity of the case
The number of aligner sets needed to complete treatment
How committed you are to wearing your aligners as directed by Dr. Hsue
Does My Dental Insurance Cover Invisalign?
Does your dental insurance cover traditional metal braces? If so, then your insurance will likely help reduce the out-of-pocket costs of Invisalign treatment as well. However, every insurance plan is different, so be sure to check with your provider before committing to Invisalign.
If you would like help understanding the fine print of your dental insurance plan, do not hesitate to ask our team for assistance! At Annigan Dental, we are always happy to help patients navigate the ins and outs of their insurance coverage and maximize their benefits for Invisalign and other cosmetic dentistry treatments.