Porcelain Veneers in Bothell, WA
Porcelain veneers change the size, shape, and color of cosmetically flawed teeth. Rather than having to undergo multiple, lengthy cosmetic procedures, veneers provide patients with significant improvements in just one treatment. Dental veneers may eliminate the need for braces, too. Dr. Henry Hsue reveals dramatic smile transformations with traditional and no-prep porcelain veneers in Bothell.
What Are Porcelain Veneers?
Veneers are wafer-thin coverings made of dental porcelain. The material looks, acts, and feels just like your natural tooth enamel. The only difference? Porcelain is highly stain resistant, so your veneers stay the same beautiful shade of white from day one.
Porcelain veneers are affixed to the surface of the teeth that show when you smile. They correct a number of smile imperfections, including:
Oddly shaped teeth (teeth that are pointy or too short)
Slight gaps or minor misalignments
Teeth that are too small
Narrow smiles
Chalky or poorly textured teeth
Severely stained or discolored teeth that haven't responded to teeth whitening
Dental veneers are reserved for making cosmetic improvements to teeth. For front teeth that have suffered problems with form as well as aesthetics, dental crowns may be the preferred solution. Dr. Hsue can explain your options and help you understand which is best for you.
Candidates for Porcelain Veneers
Porcelain veneers are a good option for most adult patients who wish to significantly improve the appearance of their smiles. Because you should be in good dental and oral health before undergoing any elective procedure, you will have an initial checkup and cleaning at Annigan Dental. Cavities and gum disease should be treated before cosmetic dentistry can begin. Patients who are older than 18 and who have healthy teeth and gums are typically fit for the porcelain veneer procedure.
Your Options in Porcelain Veneers
Traditional porcelain veneers are placed over the course of two to three visits to your dentist in Bothell. The conventional method requires the reduction of the affected tooth to make room for the porcelain veneer. Preparation of the tooth and the placement of the final veneer are performed with a local anesthetic for your complete comfort.
In some cases, Dr. Hsue can place prepless veneers in a single visit. This no-prep veneer option leaves the natural tooth structure intact, so your veneers can be removed at a later date if you so desire. Prepless veneers are also placed outside of the gum line, so your periodontal health is unaffected.
Whichever option is right for you, Dr. Hsue will put together a treatment plan that suits your smile goals and desires. It can help to bring in photos of smiles you admire to achieve the look you want -- we know not everyone desires a celebrity smile. In general, teeth look best when they match the whites of your eyes.
Porcelain Veneer FAQs – Bothell, WA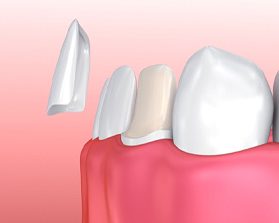 At Annigan Dental, our goal is to help our patients love their smile, no matter what type of cosmetic flaws they start out with. One of our most popular procedures is porcelain veneers because they provide beautiful, dramatic results, usually in just 2 visits. If you've been thinking about transforming your smile with porcelain veneers in Bothell, keep reading for answers to several common FAQs. And don't hesitate to contact us if there's anything else you'd like to know!
Can I Still Brush and Floss Around My Porcelain Veneers?
Yes! In fact, keeping your veneers clean is the best way to protect the enamel underneath from getting a cavity. It's also important to keep the gum tissue around your veneers clean and healthy as well. We recommend being thorough but gentle and using a non-abrasive toothpaste to avoid scratching your porcelain. (Avoid whitening formulas because they often contain "grit" to remove surface stains. Gel formulas are usually a good bet.)
How Long Do Porcelain Veneers Last?
With proper maintenance, your veneers can last 10-15 years or more. However, while porcelain is strong, durable, and stain-resistant, it can still be damaged from injuries or accidents, clenching and grinding, cavities (on the exposed enamel behind a veneer), and chewing on ice, hard candies, etc.
By maintaining good oral hygiene, seeing us for regular checkups, wearing a nightguard if necessary, and avoiding bad habits like chewing on ice, you'll help your veneers last longer.
Are There Any Foods I Should Avoid After Getting Porcelain Veneers?
You don't necessarily have to avoid any foods, but you do need to be mindful when eating anything hard or crunchy. Get into the habit of cutting foods such as apples or carrots into smaller pieces. This way, you don't have to bite into them with your front teeth and can simply chew with your back teeth instead.
How Many Porcelain Veneers Will I Need?
Porcelain veneers are completely customized to meet each person's needs, so the right number can vary quite a bit. That said, we often recommend an even number of veneers (anywhere from 2 to 12) for the best results.
In particular, this always applies if you want a veneer on one of your upper front teeth. These teeth are right next to each other, so even slight differences in how they look are very noticeable. By getting 2 veneers at the same time, we can easily make them completely identical. But if you're only treating a single lateral incisor (which is between your front tooth and canine), you can usually still get a great result from just one veneer
Will My Veneers Look Fake or Unnatural?
No. As an experienced cosmetic dentist, Dr. Hsue does a wonderful job of designing your veneers to blend in perfectly with the rest of your smile. And since he'll match the color to the existing shade of your other teeth, some people like to whiten beforehand. Ultimately, you can expect your new smile to look quite different but still very natural.
Let's Talk About Your Smile Transformation!
Are you ready to dramatically improve the appearance of your imperfect front teeth? Let's explore what we can do with porcelain veneers. Contact Annigan Dental to schedule your appointment with Dr. Hsue today!