Dental Crowns – Bothell, WA
Restore a Healthy, Beautiful Smile with a Crown
Despite the best preventive care, a tooth can be compromised by decay, trauma, or another issue. No matter the cause, Dr. Hsue can rebuild your tooth and save your smile with a dental crown in Bothell. The protective cap is effective for treating extensive decay, a crack or fracture, or any other kind of injury. You can result assured, Dr. Hsue uses high-quality materials to give you results that look and feel natural.
What is a Dental Crown?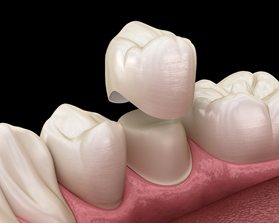 A dental crown is a protective cap placed over the entire visible portion of a tooth down to the gum line. They are commonly used in restorative and cosmetic dentistry due to their diverse uses; however, they are only recommended when there are no other viable treatments because it requires you to permanently alter your teeth. Nonetheless, they are invaluable for saving a damaged tooth from needing to be removed.
How Do They Work?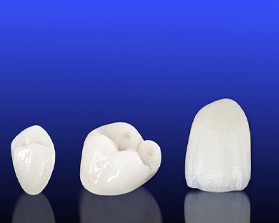 Dr. Hsue embraces the latest technological advancements, allowing you to get the durable restoration you need in one day. Your tooth is reshaped and prepared to allow the crown to be fitted over it. A digital impression of your mouth is taken to get the specifications necessary to design your crown using CAD/CAM software. The information is sent to our in-office milling machine, where it is cut from a single block of all ceramic material in about one hour. It is then cemented to your tooth to hold it in place.
Indicators of Dental Crowns
Dental crowns are very versatile. They can be used for several purposes, including:
Benefits of Dental Crowns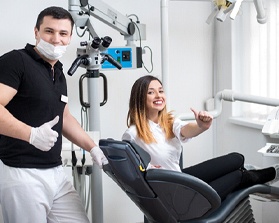 Due to new advancements in dentistry, the benefits of dental crowns are quite extensive, including
Rebuild a damaged tooth.
Prevent a broken or fractured tooth.
Stop uncomfortable symptoms, like tooth sensitivity.
Enjoy natural-looking results using all-ceramic material.
Long-term solution that can last for several years.
Restore a healthy, functional, attractive smile.
Cost of Dental Crowns
There is no set amount you can expect to pay because the cost is determined by your individual treatment plan. We work on your behalf with your insurance company to reduce the amount you need to pay out-of-pocket. We also accept a variety of payment options to cover any remaining balance.
Dental Implant FAQs
Getting a dental crown is a big decision. You are sure to have plenty of questions. Dr. Hsue takes the time to explain your treatment process and answer any questions you may have, such as:
How long do crowns last?
With the right aftercare a crown can last for an average of 10 years before needing to be replaced.
Do I need a temporary crown?
If you choose CEREC crowns, you do not need a temporary restoration. The entire process is completed in one day.
Schedule Your Consultation
At Annigan Dental, we work hard to give our patients a reason to smile. If you have a damaged tooth, we can help. Contact our office today to schedule your consultation for a dental crown.