November 22, 2020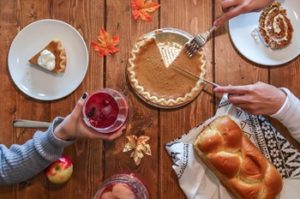 As we enter the holiday season, you're going to be surrounded by a variety of tasty snacks and meals, which aren't just bad for your waistline. They can also leave a lasting mark on your smile. You can still enjoy the festivities over the next few weeks without damaging your dentures or dental implants; however, you'll want to follow a few precautions. Your dentist in Bothell has a few recommendations to preserve your replacement teeth without dampening your holiday spirit.
1. Eat Sugar in Moderation
There isn't any doubt you'll be surrounded by delicious, sweet treats. Not to mention, there will be several drinks, sauces, and other foods that contain a large amount of sugar, especially those that are sticky. They can wear down the enamel of any remaining natural teeth while also being difficult to remove from your dentures or implant posts.
It's best to eat foods containing sugar in moderation. If you can't ignore your sweet tooth, be sure to brush your dentures or dental implants well afterward. If you can't get to your toothbrush, rinse your mouth with water to help cleanse your restorations from harmful sugars.
2. Cut and Chew Correctly
Nothing is more embarrassing than a slipping denture at the dinner table. If you don't have an implant-retained denture, you can reduce your risk of an uncomfortable meal by cutting your food into smaller pieces and taking the time to chew them thoroughly. If your meat or vegetable pieces are too large, they may dislodge your dentures, causing them to slip.
3. Skip Tough Dishes
If you have a traditional denture, it has restored your ability to chew a variety of foods; however, there are some limitations. It's best to avoid those that are tough, like steak or corn on the cob. An implant-retained denture restores as much as 70% of your natural biting force, allowing you to enjoy an unlimited diet, but you might want to skip nuts, hard candies, or sticky treats.
Invest in a Healthy Smile for the Holidays
Although your life will be a bit busier for the next couple of months, don't forget to commit to your oral hygiene. Your teeth may not be natural, but they still require care. Take the time to clean your dentures daily and soak them at night. If your denture is supported by dental implants, don't forget to clean the abutments and posts. With a proactive approach to your oral hygiene and few wise meal selections, you can ensure nothing stands if your way of smiling your brightest while savoring your favorite foods.
About Dr. Henry Hsue
Dr. Hsue earned his dental degree from the Boston University of Dental Medicine, where he graduated with high honors. He has received various awards for clinical and academic excellence. He can provide the exceptional care you deserve. If you need a checkup for the holidays, don't Google, "dentist near me." Instead, benefit from the trusted choice in the community. Contact our office today for an appointment.
Comments Off on Thanksgiving Foods to Avoid with Dentures
No Comments
No comments yet.
RSS feed for comments on this post.
Sorry, the comment form is closed at this time.