March 11, 2019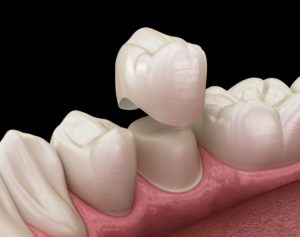 Do you have a tooth that is injured or decayed? Do you want to find a reliable, safe, and effective solution that will restore your smile and help boost your self-confidence? Dental crowns in Bothell may just be the right solution for you. Don't know much about this type of treatment? That's okay! Read on to learn how you can improve your overall health with dental crowns.
What Are Dental Crowns?
These customizable prostheses are used to rebuild a damaged or decayed tooth. Individuals who have cracks, extensive deterioration, or another tooth-related injury may find that dental crowns are the most effective way to save the natural tooth.
While some dentists may suggest a filling, this type of treatment isn't always as sufficient in saving a tooth as a dental crown. Dependent upon the size of the filling, it may not protect your tooth from further damage and may actually make your tooth more prone to breakage.
How Are They Beneficial to My Overall Health?
Oftentimes, people will assume a broken tooth requires extraction. When a tooth is removed due to decay or damage, it is necessary to have it replaced to prevent bone loss and infection. However, by opting for a dental crown, you not only get to keep your natural tooth, but you maintain bone strength and protect it from bacteria that can cause further damage.
To better determine if dental crowns are the right solution for you, here are a few additional benefits that might have you seeking treatment from your dentist in Bothell sooner than you think.
Dental crowns are durable. Once your crown is placed, you can expect its strong and durable porcelain to withstand daily wear and tear.
They blend with your smile. Because each crown is made of porcelain, it is translucent and reflects light much like your own natural teeth. This will keep your smile looking natural and keep others from noticing you've had treatment.
They're easily maintained. Now that you have your new fixture, regular brushing and flossing are all you need to do to ensure it and your other teeth remain clean and healthy.
They're long-lasting. As long as you commit to taking proper care of your dental crown(s), you can expect them to last anywhere from 5 to 15 years. This helps to alleviate any concern of frequent visits to the dentist for a potential replacement.
Dental crowns can cover stains. Are you known for drinking too much coffee or tea? Discoloration of your teeth can be improved with a dental crown. Although you and the dentist will establish a color that matches your smile, it may be beneficial to seek teeth whitening treatment to create a more youthful appearance.
Restore your smile today with dental crowns. Not only will your dentist in Bothell ensure a seamless fit, but you'll be looking and feeling your best knowing you have a smile that will last for years.
About the Practice
At Annigan Dental, our team of dental experts will help you develop and maintain a smile you can be proud to show to the world. As our patient, you can expect a range of dentistry services to meet all your dental needs. Need a dental crown? Not to worry! Providing expert advice, we will thoroughly examine the damaged tooth or teeth to ensure this is the right treatment for you. To learn more about our services and how we can give you a healthier smile, contact us at (425) 492-6898.
Comments Off on Discover How You Can Improve Your Health With Dental Crowns in Bothell
No Comments
No comments yet.
RSS feed for comments on this post.
Sorry, the comment form is closed at this time.