Dental Crowns & Bridges in Bothell, WA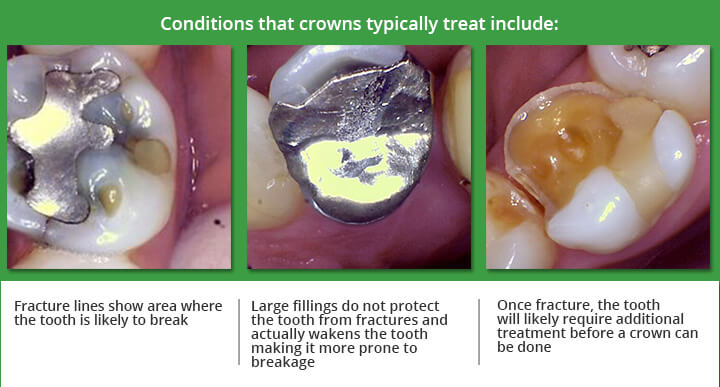 A dental crown is a prosthesis that Bothell, WA, dentist Dr. Hsue uses to rebuild a tooth that been structurally compromised because of extensive decay, a crack or fracture, or any other kind of injury. Whereas a filling may not be sufficient to save your tooth, a crown can be the ideal solution.
A dental bridge is used to solve the problem of tooth loss. Whether you are missing one or a few teeth, a bridge spans the gap in your smile with lifelike false teeth that are held in place by the crowns we place over healthy adjacent teeth. In Bothell, dental crowns are used at Annigan Dental to repair a single tooth and they are used in coordination with a bridge to fill in your smile.
Dental Crowns in Bothell, WA
Dental crowns are also known as dental caps. This treatment is often chosen to preserve a tooth that might otherwise require extraction, which is always the option of last resort. Helping patients keep their teeth is one of the main goals of restorative treatments such as dental crowns.
Most of the time, Dr. Hsue specifies a crown made of porcelain, which is a strong durable material that looks natural in your smile. Porcelain is translucent and reflects light similarly to your own teeth. And we can choose a color that matches the whiteness of your smile. Alternatively, many patients choose to have their teeth whitened to match the more youthful appearance of a crown. Once cemented over your prepared tooth, a crown only requires regular brushing and flossing in order to be optimally maintained.
Dental Bridge in Bothell, WA
Whether you are missing a single tooth or two or three teeth in a row, a dental bridge can be used to rebuild your smile and your confidence. Tooth loss is obvious, and this understandably makes some people self-conscious and embarrassed. With a dental bridge, you can regain your oral health as well as your confidence.
To secure a bridge, Bothell dentist Dr. Hsue prepares health abutment teeth to have crowns. Our dental lab fabricates a single prosthesis—crowns on either end and false teeth in between. Dr. Hsue bonds the dental crowns into place and the false teeth are suspended across the gap in your smile. With a crown and bridge, you are once again able to enjoy a well-balanced diet, speak clearly and smile with confidence.
At Annigan Dental, we're always working hard to give our patients new reasons to smile. Contact our Bothell, WA practice today if you have any questions about crown and bridge or any of our restorative services. Our office welcomes new patients from the nearby areas of Mill Creek, Kirkland, Woodinville, Lake Forest Park, Kenmore, Kingsgate, and beyond. We hope you'll choose to visit us for many years to come!