Single Tooth Implants – Bothell, WA
Replacing Individual Teeth – Roots & All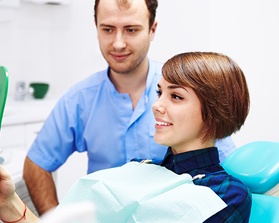 Following the loss of just one tooth, many people make the mistaken assumption that there's no need to replace this individual tooth, especially when it's not one of the social six front teeth you can see when you smile. Unfortunately, the loss of a single tooth can adversely impact your oral health and your smile's appearance. Since the majority of oral health conditions worsen without treatment, it's always important to repair dental damage as soon as possible. After the tooth is lost, the surrounding teeth will shift to fill the gap in your smile. This can lead to bite misalignment, potentially undoing costly orthodontic treatments. The shifting bite can place more pressure on individual teeth, leading to increased risk for wear and damage. If you're ready to learn more about your restoration options, it's time to call our dental office in Bothell to schedule a tooth replacement consultation appointment with the Annigan Dental team.
Single Tooth Replacement Options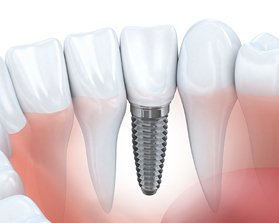 When it comes to replacing one tooth, the Annigan Dental team offers two treatment options – fixed bridges and single tooth implants. Both of these tooth replacement solutions have unique benefits, and during a consultation appointment, we'll help you plan for the best treatment to meet your unique oral health care needs and exceed your highest expectations. Keep reading to learn a little more about both of these exceptional tooth replacement options.
Fixed bridge
A traditional fixed bridge restoration is created by attaching a dental crown to both sides of a replacement tooth. These crowns are attached to healthy teeth on either side of the lost tooth, bridging the gap in your smile and recreating lost tooth structures.
Single tooth implant
Unlike a fixed bridge that needs to rely on surrounding teeth for support, a single tooth dental implant restoration is fully self-supporting. We will start the process by performing any treatments necessary to prepare your smile for dental implant placement, including tooth extractions and tissue grafts. Then, the implant post is positioned. Over the course of several months, the implant post will fuse with the bone and gum tissue. Once this fusion process is complete, we attach an abutment post that connects the dental crown to the implant. Then, the dental crown is designed. Once we receive the final dental crown, you'll return to the office where we'll attach your restoration to the implant post.
Benefits of Single Tooth Implants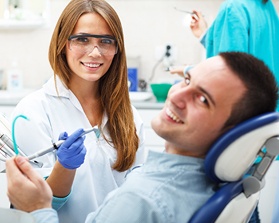 Before we get started with your single tooth implant plan, we will walk you through every step of the treatment plan to help you get a better understanding of why so many patients rely on this innovative restoration option. Additionally, we'll walk you through all of the advantages of restoration using dental implants. Some of the many benefits patients experience when repairing their smile using single tooth implants include the following:
Longevity – the traditional fixed bridge single tooth restoration will need to be replaced every five to ten years to ensure continued function, but a single tooth implant can last 30 years or longer with proper care.
No hassle – you can brush and floss your implant supported dental crown the same way you would your healthy, natural smile. You can also speak and smile with confidence and eat all of your favorite foods without concern.
Oral health preservation – because the dental implant post replaces the lost tooth root, you don't need to worry about losing any healthy tooth structure as is necessary with traditional fixed bridge restorations. Additionally, the prosthetic tooth roots provide the necessary stimulus to ensure you maintain adequate jawbone density and gum tissue volume.