September 13, 2023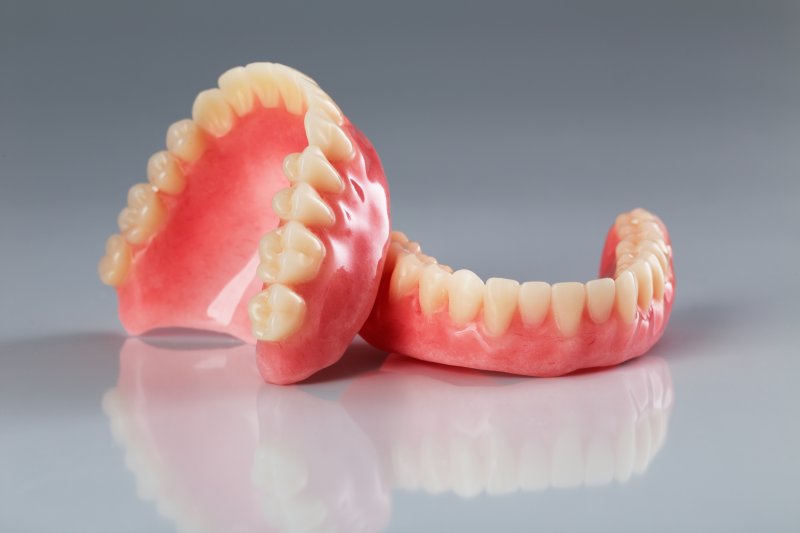 Are you curious about how long it would take to get a pair of dentures? Each patient's needs are unique, so every set of dentures manufactured must be made to suit the individual. While this means that there isn't an exact standardized time frame for getting them, a fair estimate is that it usually takes somewhere between six weeks and three months. However, the process can take longer due to complications like the patient needing teeth extracted. Here's what you should know about how long it takes for a patient to receive a pair of dentures.
Getting Dentures Begins with an Examination
The first step of getting dentures is a dental exam, during which your dentist will examine your mouth and your remaining teeth to determine the best course of action. Some patients will need only a partial denture to be used alongside their remaining healthy teeth. Other patients might need to have their remaining teeth extracted to make room for a full denture. Your dentist will explain the proposed treatment plan to you so you can understand and feel comfortable during the whole process.
Getting Dentures May Require Extraction
If you need any teeth extracted before receiving dentures, your gums will need time to heal before the denture process can continue. Bite impressions taken while the gums are still swollen can result in an uncomfortable and poorly fitting pair of dentures. While every patient will heal at a different rate, it will probably be about six to eight weeks after extraction before the impressions can be taken. Your dentist will schedule you for regular appointments during this time to make sure your gums are healing properly and advise you on caring for them in the meantime.
Your Dentist Will Take an Impression and a Bite Check
Once your gums have healed, your dentist will take an impression of your mouth to provide the measurements necessary for your dentures to fit properly. Your dentist will fill two trays with a liquid or semi-solid material and place them in your mouth for you to bite down upon. This will provide a negative mold of your gums, allowing the dental lab to manufacture your dentures according to your mouth's dimensions.
About an hour after taking this impression, your dentist will use wax blocks to design a proper bite and alignment for your new teeth. You will be asked about your preferences regarding their size, shape, and color. You may want to bring a trusted person with you to provide some input for the decision.
Your Dentures Will Be Manufactured at a Lab
The impressions and the wax blocks will be sent to a lab. The dental technician will have a design according to your dentist's instructions set in wax. These early-stage dentures will be sent back to your dentist so you can try their fit and note any necessary corrections. The dentures will be sent back to the lab to be finalized. The dentures will be cleaned, polished, and sent back to your dentist for a final fitting. This whole process usually takes between six weeks and three months.
About the Author
Dr. Henry Hsue earned his dental doctorate from Boston University School of Dental Medicine in 2004 and has since completed hundreds of hours of advanced education in the dental field. He is a proud member of the American Dental Association, the Academy of General Dentistry, and the American Academy of Facial Esthetics. His office in Bothell, WA offers general, restorative, cosmetic, and emergency dentistry in addition to denture treatments. For more information on the process of getting dentures, contact his office online or dial (425) 492-6898.
Comments Off on I'm Interested in Dentures; How Long Does It Take to Get Them?
No Comments
No comments yet.
RSS feed for comments on this post.
Sorry, the comment form is closed at this time.