August 15, 2023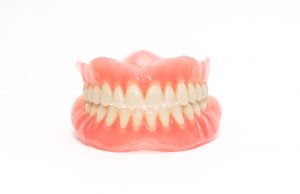 Imagine this- a year or two ago you lost several teeth and your dentist fitted you for dentures. Perhaps it took you a little while to adjust to wearing them, but you finally got the hang of it. Everything had been fitting well and you haven't had too many issues. However, you've recently noticed that your dentures aren't fitting as well or keep slipping out of place.
Does this sound familiar? It could be a sign that your dentures need to be relined. Keep reading to learn more about why this happens and how it's resolved.
Why Do My Dentures Need To Be Relined?
Although your dentures were custom-created to fit your mouth, after about 1-2 years you will likely need an adjustment. This is because our facial structure changes over time once we lose teeth. With no tooth to stimulate it, the jawbone reabsorbs the bone mass left behind since it's no longer needed. This slowly alters the shape of our jaw and cheeks, which can cause previously well-fitted dentures to start to feel unstable. The process of adjusting your dentures to match the new shape of your mouth and help them stay in place is called "relining".
How Are Dentures Relined?
You're likely wondering how your dentist goes about relining your dentures. To do this, they'll first clean your dentures and remove a small amount of material from the base that rests on your gums. Then, they apply resin to the inside of your denture and then replace it in your mouth. Once the resin hardens, it creates a tighter seal on your gums.
What Are The Types of Relining?
There are actually two types of relining. They are:
Soft relining. This method is often preferred because it's considered more comfortable for patients. In these cases, your dentist will use a liquid polymer to add depth to your denture. It's a quick procedure that can be done in your dentist's office.
Hard relining. This approach consists of using temporary putty to mark where changes need to be made and then creating a new acrylic denture. It lasts longer than soft relines because of the more durable material. However, it's not recommended for patients with sensitive gums, or who are recovering from other dental work.
If you've noticed that your dentures don't seem to be fitting as well and you've had them for a year or two, it's time to call your dentist! They can work with you to decide whether your dentures need a soft or hard relining based on your specific needs. With just one visit, they can have your dentures fitting well for another couple of years!
About the Author
At Annigan Dental, you'll be fully informed about your condition and treatment options so that you better understand how to achieve your oral health goals. Dr. Henry Hsue is skilled in many aspects of dentistry, including cosmetic dentistry, gum disease treatment, root canals, dentures, implants, orthodontics, sleep apnea appliance therapy, and more! He's uniquely qualified to help you reline your dentures for a perfect fit. If you'd like to make an appointment, feel free to contact the office on the website or call (425) 492-6898.
Comments Off on What Is Denture Relining?
No Comments
No comments yet.
RSS feed for comments on this post.
Sorry, the comment form is closed at this time.