April 17, 2023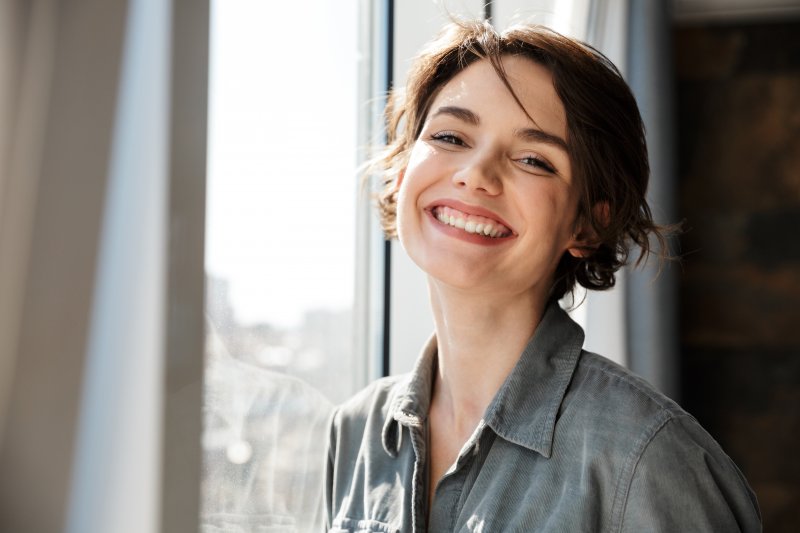 Veneers are thin, custom-made shells that are bonded to the front surface of teeth to enhance their appearance. They can effectively improve the color, shape, size, and alignment of teeth, creating a natural-looking and radiant smile. If you just got veneers, you may be curious about how certain foods can impact their longevity and appearance so you know how to maintain your new smile. Keep reading as we explore the foods to steer clear of and those that can help maintain your dazzling beam.
Way #1: Eat Fruits and Vegetables
Boosting your diet with foods rich in vitamins and essential nutrients, such as leafy greens and sweet potatoes, can play a significant role in maintaining healthy teeth. These nutritious choices provide the necessary components to support strong and vibrant teeth, contributing to overall oral health.
In addition, incorporating raw and crunchy fruits and vegetables such as apples, carrots, and celery into your diet can act as a natural toothbrush, aiding in the removal of plaque and food particles. This simple practice not only helps prevent discoloration but also promotes the longevity of your radiant smile. Including these tooth-friendly options in your regular dietary routine is highly recommended.
Way #2: Avoid Beverages That Are High in Tannins
Tannins are bitter and astringent compounds present in various plant parts like wood, bark, leaves, and fruit. Popular beverages like coffee, tea, and red wine contain tannins that can potentially stain and diminish the brightness of your once dazzling smile.
To protect your veneers from staining, it is recommended to limit the consumption of these beverages. Additionally, using a straw when enjoying them can help minimize contact with your teeth. Remember to brush and floss after consumption to prevent tannins from lingering on your teeth for prolonged periods, ensuring the longevity of your veneers' bright appearance.
Way #3: Steer Clear of Hard Foods
When it comes to making dietary adjustments with veneers, it's important to consider more than just dental discoloration. Safeguarding your new smile involves avoiding hard candies, peanut brittle, and any other foods that can potentially chip, crack, or cause harm to your veneers. By being mindful of these precautions, you can preserve the integrity and longevity of your beautiful veneers.
In addition, it is crucial to refrain from chewing on ice cubes or placing non-food objects in your mouth, as these can lead to damage. Instead, choose soft foods such as pasta, rice, and mashed potatoes to minimize any potential harm to your veneers. By making these conscious choices, you can maintain the integrity and longevity of your veneers while enjoying a varied and satisfying diet.
About the Practice
If you reside in Bothell or the surrounding areas and seek to enhance the appearance of your teeth, Dr. Henry Hsue and the skilled team at Annigan Dental are here to assist you. Whether you already have porcelain veneers or are considering getting them, their experts can provide valuable tips to maintain your new smile's radiance. To schedule an appointment or to learn more about veneers, contact Annigan Dental at (425) 492-6898 or visit their website.
Comments Off on How Your Diet Will Change with Veneers
No Comments
No comments yet.
RSS feed for comments on this post.
Sorry, the comment form is closed at this time.