November 10, 2022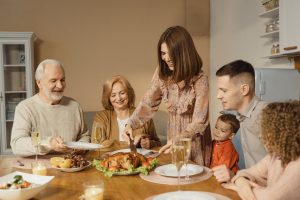 Thanksgiving is right around the corner. As you anticipate turkey, stuffing, and all the fixings, the last place you want to spend the day is sitting at an emergency dentist. If you're like many people, you probably never expect it to happen to you, but 1 in 6 Americans has a dental emergency annually. Not to mention, you're going to be snacking more than usual, which can mean bad news the next time you see your dentist. You don't have to avoid your favorite meals and snacks to protect your oral health. Here are 5 tips for a healthy Thanksgiving smile to keep you out of the dental chair.
1. Limit Sugars and Starches
Canned cranberry sauce, sweet potatoes, stuffing, and buttered rolls are a staple on many holiday tables; however, they can wreak havoc on your smile. Sugars and starches feed cavity-causing bacteria that can erode your enamel. Keep tooth decay at bay by limiting the sugar content in your meals.
2. Skip Red Wine
If you love having red wine with dinner, you may want to think twice before pouring a glass. Alcohol can lead to dry mouth, which creates the perfect environment for bacteria to thrive. Without enough saliva, bacteria, plaque, and food particles will cling to your teeth. Not to mention, the dark pigmentation of red wine can stain your enamel. If you can't skip your favorite drink, rinse your mouth with water to help keep it clean and moist.
3. Avoid Hard or Sharp Foods
Eating hard or sharp foods can lead to a dental emergency. Nuts, hard candy, and popcorn can break a tooth while chips and other sharp foods can stab your gums or get stuck between your teeth. You can avoid an unplanned day in the dental chair by skipping any hard or sharp snacks.
4. Choose an Alternative to Sticky Foods
Caramel apples, marshmallows, and other sticky foods may satisfy your sweet tooth, but they will cling to your teeth. The longer your enamel is exposed to the cavity-causing residue, the more likely you'll develop decay. It's better to choose sweets that won't linger on your teeth, like chocolate. Don't forget to brush and floss after dessert.
5. Drink Plenty of Water
Water is important for staying hydrated, but your oral health also relies on H2O. Drink plenty of water to stay hydrated so your mouth stays moist. It will also cleanse your teeth in between brushing and flossing. Your dentist will recommend choosing water over alcoholic drinks, fruit juices, or soda.
You'll have one more reason to be thankful this year with healthy teeth and gums. You can spend more time making memories instead of worrying about your smile this holiday season.
About Dr. Henry Hsue
Dr. Hsue earned his dental degree at Boston University School of Dental Medicine and has completed extensive advanced education in orthodontics, dental implants, cosmetic dentistry, and much more. As a member of many professional organizations, including the American Dental Association, he has a reputation you can trust. Contact our office today to request an appointment.
Comments Off on 5 Thanksgiving Tips for a Healthy Smile
No Comments
No comments yet.
RSS feed for comments on this post.
Sorry, the comment form is closed at this time.