October 4, 2022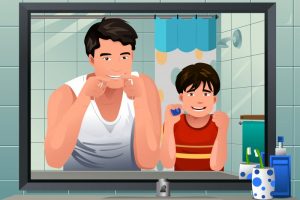 People may be thinking about Halloween when October rolls around, but that's only at the end of the month. Meanwhile, every day in October is part of National Dental Hygiene Month! When you have a plan, good oral hygiene doesn't take that much effort and it makes an enormous difference in the long-term outlook of your smile. You may know brushing and flossing inside and out, but there's more to it. Keep reading to learn some simple-yet-effective oral hygiene tips in Bothell!
Be Sure to Brush Twice Daily
Morning brushing is important, but before bedtime is crucial. Otherwise, you leave bacteria and plaque in your mouth all night to raise your risk of tooth decay and gum disease. Use proper brushing technique – a gentle, circular motion – with a soft-bristled brush and fluoridated toothpaste.
Floss Daily
If you are brushing but not flossing, you've only half-finished the job. Your toothbrush cannot reach all surfaces of your teeth. Flossing removes food debris and plaque from between the teeth and beneath the gumline. Flossing before you brush at bedtime is ideal.
Rinse with Mouthwash
Mouthwash has multiple benefits. It reduces the acidity in your mouth, cleans hard-to-reach areas, and provides minerals to strengthen your tooth enamel. Mouthwash is not a substitute for brushing and flossing – it's a key component of the process alongside them.
Drink Plenty of Water
Drinking water is great for your overall health and it certainly aids your smile. Try drinking a glass of water after every meal to wash away food debris and acids. This reduces the ability of bacteria to weaken your enamel.
Make Wise Food Choices
Sugar is a problem for your teeth because it is converted to acid by bacteria in your mouth. Most people are aware it's an oral health hazard, but also be aware of acidic fruits, teas, and coffee. Crunchy produce items like apples, pears, carrots, and celery are great to incorporate into your diet since they stimulate saliva production to neutralize harmful acids and wash away food particles.
Visit Your Dentist Twice Each Year
Even if you follow all the previous tips perfectly, your mouth still won't be as clean as it could be if you see your dentist for a professional cleaning. They'll remove plaque and tartar buildup, but they also investigate for any potential issues your teeth and gums might have like periodontal disease and oral cancer. Serious issues like those need to be identified as soon as possible to get you on the road to recovery.
To celebrate this month of recognition, be sure to step it up on any of these oral hygiene tips in Bothell where you weren't already excelling. If that includes a cleaning and exam from your dentist, they are just a phone call away!
About the Author
Dr. Henry Hsue earned his dental doctorate from Boston University, graduating with high honors. He is a member of the American Dental Association and the Academy of General Dentistry. Dr. Hsue has enjoyed helping local smiles since he moved to Washington with his family in 2009. He will be glad to offer further dental hygiene advice during your next checkup and cleaning. Schedule one on his website or call (425) 492-6898.
Comments Off on Tips to Support Your Smile for National Dental Hygiene Month
No Comments
No comments yet.
RSS feed for comments on this post.
Sorry, the comment form is closed at this time.