March 3, 2022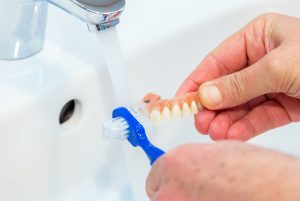 Dentures look and feel more realistic than ever because your dentist carefully crafts your new teeth to mimic those you've lost. Besides regaining a complete, functional smile, you never have to worry about tooth decay again; however, that doesn't mean you can stop brushing. While your dentures can't get cavities, they can discolor if you aren't careful. Here's how you can whiten dentures to maintain your beautiful smile.
Whitening Your Dentures at Home
If your pearly whites aren't as bright as they used to be, you can try a couple of at-home remedies to freshen your smile. A nonabrasive denture cleaner can be a simple fix to remove plaque and food debris. Soak your denture in an overnight solution to loosen any deposit buildup. Sometimes, all you need is to switch to a different cleaning solution to resolve discoloration.
If a good cleaning isn't enough to restore your bright smile, don't use whitening products around your home. They can damage your denture and be harmful to your health, such as:
Chlorine solutions
Household bleach
Other household cleaners
Hard-bristled brushes or abrasive products
Lemon juice
Baking soda
Metal polishing agents
Professionally Restore Your Smile
Unfortunately, some stains can be too difficult to treat at home, which means it's time to turn to a professional. Your dentist can resolve denture stains and polish your teeth to keep your smile looking its best. It only takes a few minutes during your semi-annual checkup appointment.
Safeguarding Your Smile from Stains
The best way to protect your dentures from stains starts at home with a solid daily cleaning routine. Use a soft-bristled toothbrush and mild hand soap or dishwashing liquid to clean your dentures at least once daily. Don't forget to clean the inside of your mouth, too. You'll want to soak your dentures in an overnight solution to remove anything left behind by your toothbrush.
Your dentist will also recommend limiting your contact with stain-causing factors, like darkly pigmented foods and drinks. You don't have to avoid coffee, berries, or tomato sauce all the time. Instead, limit how often you have them, and be sure to clean your dentures well after. Don't forget to rinse your dentures after every meal.
Benefit from a Bright Smile
Keeping your denture clean is important for more than just a stunning smile. Daily maintenance is vital to preventing embarrassing odors caused by bacteria. Not only can oral bacteria make your dentures smell, but it can also diminish the lifespan of your new smile.
You can ensure your dentures last for years by committing to your oral hygiene. Besides keeping your dentures clean at home, visit your dentist every 6 months to keep your smile its brightest.
About Dr. Henry Hsue
Dr. Hsue earned his dental degree from the Boston University School of Dental Medicine and has completed hundreds of hours of continuing education. He has the qualifications to treat the most complex oral health issues, like tooth loss. If you're ready to replace your missing teeth, contact our office today for a consultation.
Comments Off on Discolored Denture? Reveal a Brighter Smile
No Comments
No comments yet.
RSS feed for comments on this post.
Sorry, the comment form is closed at this time.