January 3, 2022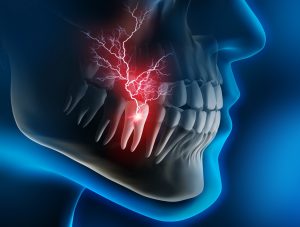 Many people believe an occasional toothache is normal, so they try to wait out the pain. While tooth pain is common, it's not something you want to ignore. Whether drinking a glass of cold water causes a sudden twinge of discomfort or you're tossing and turning from a throbbing toothache, it's best to see a dentist right away. Dental pain can indicate a serious issue in your mouth, like decay or an infection. While some causes can be minor, like thin enamel, other toothaches can be more serious. Here are 4 types of tooth pain you shouldn't ignore.
1. Sharp Pain
Sudden sharp pain can be caused by various factors, but tooth decay or an infection are common culprits. If you experience increased discomfort when biting down on one or more teeth, you may have a cavity, which can be treated with a filling. However, if you wait too long to see a dentist, bacteria can reach the inner layers of the tooth, causing an infection. Instead of a simple filling, you'll require a more invasive procedure, like root canal therapy.
2. Tooth Sensitivity
Tooth sensitivity is a common complaint when eating or drinking anything hot or cold. Even inhaling cold air can make you pucker your lips from pain. Although the discomfort subsides quickly, the source of the pain doesn't go away, like a cavity, weakened enamel, gum recession, or untreated bruxism. Your dentist will pinpoint the problem to provide the necessary treatment, so you won't have to think twice before enjoying an ice cream cone.
3. Throbbing Pain
Constant throbbing pain can make it impossible to focus on anything else. An infection deep within the tooth is often the reason, which will require a root canal to treat. If you also have a weird taste in your mouth, inflamed gums, or a pimple-like bump near a tooth, it's best to contact an emergency dentist right away.
4. Dull Pain
Persistent dull pain may not be enough to interrupt your daily plans, but it can be annoying after a while. Although the discomfort may not seem alarming initially, it can be a sign of an infection. An object stuck between your teeth or in your gums can also cause constant pain. In some cases, aching teeth can be the result of grinding or clenching your teeth.
Don't Wait to Call Your Dentist
No one has time for an unplanned trip to an emergency dentist, but any type of tooth pain isn't something you want to overlook. Your dentist will address your discomfort and correct the problem, so you can get back to your day quickly.
About Dr. Henry Hsue
Dr. Hsue earned his dental degree at the Boston University School of Dental Medicine and has completed extensive training in many specialties, including restorative dentistry, TMJ therapy, and gum disease treatment. He has the qualifications you can trust to treat complex oral health issues. If you have a dental emergency, contact our office today for an appointment.
Comments Off on 4 Types of Toothaches You Shouldn't Ignore
No Comments
No comments yet.
RSS feed for comments on this post.
Sorry, the comment form is closed at this time.