September 7, 2021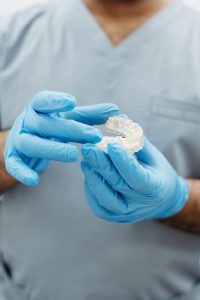 You've likely heard a few people complain about wearing traditional braces, so it's normal to be concerned about Invisalign causing the same pain. There isn't any reason to worry. Many people choose Invisalign because clear aligners are more comfortable than brackets and wires. Although everyone tolerates pain differently, 35% of Invisalign wearers don't experience any discomfort, while 54% report only mild aching. Don't let anxiety about potential Invisalign discomfort stop you from fixing your teeth. Here are a few quick tips to control any soreness while on your journey to a straight smile.
How Bad Does Invisalign Hurt?
Clear aligners have a smooth, sleek design, so there won't be any brackets or wires irritating the inside of your lips or cheeks. State-of-the-art technology ensures each aligner has a precise fit to gently move your teeth in small increments. Unlike traditional braces, you won't focus on the discomfort of wires and brackets pulling your teeth. Instead, Invisalign applies continual pressure, so there's minimal pain. Here's what to expect during your treatment:
First Week with Invisalign
Initially, your mouth might be a little sore for a few days; however, 83% of aligner wearers are accustomed to Invisalign within 1 week. Generally, the most prevalent complaint is discomfort while chewing. As much as 44% of Invisalign patients experience mild and temporary pain when eating.
It's not likely your entire mouth will ache during the adjustment period. Instead, only 1 or 2 teeth may hurt, which shows your aligners are already doing their job. As you switch to a new aligner, the pain may move to a different tooth. Typically, it will dissipate in 2-3 days after wearing the aligner.
Managing Invisalign Discomfort
Oral pain can be distracting, making it almost impossible to focus on anything else. You can make the transition easier by following a few tips:
Cold Compress: Apply a cold compress to the outside of the face to reduce inflammation. It can also numb the area for temporary relief.
OTC Pain Medication: Ibuprofen can combat both pain and swelling. It's best to take it at least 1 hour before wearing the next aligner in your series.
Rinse with Saltwater: A warm salt and water mixture can ease sore gums and decrease swelling. Mix half a teaspoon of table salt with a glass of warm water to use as a mouthrinse.
Avoid Hard or Crunchy Foods: You never want to have anything except water while wearing your aligners. Although you won't have dietary restrictions, consider eating softer foods to reduce pain when chewing.
Your dentist will also give you more personalized tips to ensure you're confident and comfortable while enhancing your smile with Invisalign.
About Dr. Henry Hsue
Dr. Hsue earned his dental degree at the Boston University School of Dental Medicine before continuing his training in many advanced specialties, like orthodontics, cosmetic dentistry, and TMJ management. If you're ready to invest in a healthy, beautiful smile, contact our office today to schedule your consultation for Invisalign.
Comments Off on How Can I Manage Invisalign Discomfort?
No Comments
No comments yet.
RSS feed for comments on this post.
Sorry, the comment form is closed at this time.