August 27, 2021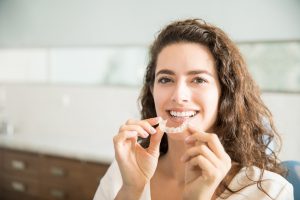 Are you one of the few people who were born with an almost perfectly straight smile? Maybe you've experienced some regression from a previous orthodontic treatment? No matter the reason, you're fortunate because you only have a couple of teeth out of alignment. Although you'd like to improve them, you don't want to spend years wearing braces. While you've heard about using clear aligners as an alternative, you don't need to fix both arches. You can get Invisalign on just the top; however, it can cause permanent damage to your smile if you aren't careful. Here's what you need to know to get the results you want without any unnecessary risks.
What is Single-Arch Orthodontic Treatment?
Your dental arch is a U-shaped structure consisting of bone, tissue, and teeth on both the upper and lower jaw. Single-arch orthodontics involves only moving the teeth of one jaw. Although it is possible to treat only one arch, it isn't always advisable because it can cause serious complications for your smile.
Your upper and lower teeth work together to perform certain tasks necessary for everyday life, like speaking, biting, and chewing. There must be a balance between the two arches, or your oral functions can significantly decline. In addition, jaw pain and preventable dental issues can occur, like enamel erosion or broken teeth.
The concern regarding single-arch treatment is the way it can affect the harmony between the top and bottom teeth if done on the wrong candidate. Sometimes, alignment problems are more than just an aesthetic issue. They can affect the way your smile functions. Moving even a single tooth could potentially alter your bite.
Thankfully, the risks are minimal if the treatment is used by the ideal candidate. Your dentist will perform a thorough consultation to ensure single-arch orthodontics will benefit your smile.
Am I a Candidate for Single-Arch Treatment?
Using Invisalign on just the top or bottom is generally recommended for people who only have a few crooked front teeth, like gaps. Patients who have more complex issues, like an open bite, will require clear aligners for both arches. Your dentist may consider single-arch treatment to correct:
Minor gaps or spacing problems
Slightly crooked front teeth
A tooth tipped out of alignment
Orthodontic relapse
Teeth in the smile zone
Depending on the complexity of your needs, you can have the results you want in as few as 4 to 6 months. To ensure there aren't any delays added to your plan, it's best to wear your aligners for at least 22 hours per day.
Invest in an Attractive Smile
If you're ready to improve your smile without brackets and wires, schedule your consultation for Invisalign today.
About Dr. Henry Hsue
Dr. Hsue earned his dental degree at Boston University School of Dental Medicine and has completed hundreds of hours of continuing education in many specialties, including adult orthodontics. He can resolve even the most minor or complex orthodontic issues. Contact our office today to start your journey to a straight smile.
Comments Off on Is Single-Arch Treatment with Invisalign Possible?
No Comments
No comments yet.
RSS feed for comments on this post.
Sorry, the comment form is closed at this time.