July 30, 2021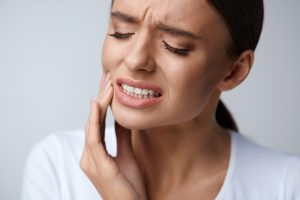 Do you often experience facial soreness? Maybe you have difficulty opening or closing your jaw? You might have a disorder of the temporomandibular joint, which is located on either side of your face, connecting your jaw to your skull. Several factors can contribute to jaw pain and dysfunction; however, you likely wouldn't expect a sleep disorder to be the culprit. Believe it or not, TMJ and sleep apnea are related. Here's what you need to know to stop your jaw pain and sleep soundly.
Prevalence of TMJ Disorders
According to the National Institutes of Health, over 10 million people have a disorder of the temporomandibular (TM) joint. The disorders cause reoccurring jaw pain and limited mobility of the joint. It's not uncommon to have clicking, popping, or grating sensations when opening and closing the mouth. In some cases, the jaw can even lock into an opened or closed position.
It can be difficult to pinpoint the cause of the problem because it can result from various factors, like past trauma, bruxism, or an uneven bite. No matter the reason, untreated TMJ can lead to chronic headaches, facial pain, and other complications.
TMJ and Sleep Apnea Connection
22 million Americans live with a condition called sleep apnea. The sleep disorder causes several interruptions in breathing from an obstruction in the upper airway, most often from the soft tissues in the back of the mouth collapsing. Although it's a separate condition from TMJ, the two are linked to one another.
Research has found 43% of patients with TMJ also have sleeping problems. When the airway collapses, it causes an automatic response in the body to protrude the lower jaw forward. The constant back and forth motion can cause tension and stress on the jaw joints.
Not to mention, TMD symptoms are known to worsen from chronic fatigue. Since sleep apnea negatively affects your sleep quality, it can increase the likeliness of jaw pain if you aren't getting enough rest.
Treating Sleep Apnea and TMJ
Your dentist has the solution you need to treat both conditions using an oral appliance. The custom-fit device is worn at night to reposition the lower jaw to keep the airway open. This will stop pauses in breathing while taking strain off your TMJ. It's a simple, effective way to improve your general health and quality of life.
Besides treating sleep apnea, you can take several steps at home to reduce jaw pain, like practicing stress-relieving exercises. Home massages and stretching exercises can improve the joint's mobility to bite, chew, and yawn without discomfort.
Don't lose sleep at night from TMJ or a narrowed airway. Your dentist can stop your pain and help you get the rest you need to feel your best.
About Dr. Henry Hsue
After earning his dental degree, Dr. Hsue has completed extensive continuing education to master the art and science of dentistry. He specializes in many advanced treatments, including TMJ therapy and sleep apnea therapy. He can create the oral appliances you need. Contact our office today to schedule your consultation.
Comments Off on Are TMJ and Sleep Apnea Connected?
No Comments
No comments yet.
RSS feed for comments on this post.
Sorry, the comment form is closed at this time.