June 11, 2021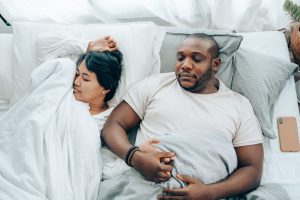 If you suspect you have sleep apnea, you might believe chronic snoring and daily fatigue are nothing more than a nuisance; however, the consequences of not seeking treatment can be devastating. Without the right intervention, a good night's rest isn't the only thing you could lose from untreated sleep apnea. Instead, you could potentially lose your life. Thankfully, your dentist has the solution you need to dream peacefully.
Can You Die from Sleep Apnea?
Recently, Star Wars actress Carrie Fisher passed away from what's believed to have been complications of obstructive sleep apnea, which is the most common form of the disorder. Although many people argue that you can't actually pass away from sleep apnea, experts agree it can lead to severe health concerns that can be life-threatening.
Obstructive sleep apnea causes several pauses in breathing each night because the soft tissues in your mouth or throat relax to create a blockage in your airway. This can lead to hundreds of interruptions in breathing, which is why your life depends on getting the right treatment.
With each pause in breathing, your body will be depleted of oxygen. This triggers a mechanism that forces you to wake up to prevent you from suffocating while sleeping. You may not even be aware of the sudden awakenings, but they are the cause of your sleep deprivation.
Besides fatigue, morning time headaches, and sleep disturbances, the condition also can increase your risk of several health issues that can shorten your lifespan, like cardiovascular disease. Evidence from several studies shows people with sleep apnea have higher mortality rates because the condition can interrupt circadian rhythms, blood pressure, and respiratory function.
How is Sleep Apnea Treated?
Typically, a CPAP is used to treat sleep apnea, which is a special machine that delivers air pressure through a nasal mask. Now, there's a more convenient and comfortable solution. Your dentist can create a custom-made oral appliance to protrude your lower jaw forward to keep the airway open to stop interruptions in breathing. Research shows patients notice at least a 90% improvement in their sleep apnea symptoms when used to treat mild-to-moderate cases of the disorder. Depending on the severity of your sleep disorder, your dentist may recommend a combination of both treatments to protect your health and wellness.
Sleep Soundly Tonight
Don't spend another night placing your life on the line. Your dentist has undergone advanced training in sleep dentistry to provide individualized solutions for each patient. They'll help you sleep soundly and breathe easier, so you can look forward to many more wonderful years ahead.
About Dr. Henry Hsue
Dr. Hsue earned his dental degree at the Boston University School of Dental Medicine, where he graduated with high honors. He is a proud member of the Washington State Dental Association and the American Academy of Dental Sleep Medicine. He has the qualifications and advanced solutions you need to treat sleep apnea. If you're ready to breathe better, contact our office today to schedule your consultation for oral appliance therapy.
Comments Off on Is Untreated Sleep Apnea Fatal?
No Comments
No comments yet.
RSS feed for comments on this post.
Sorry, the comment form is closed at this time.