May 3, 2021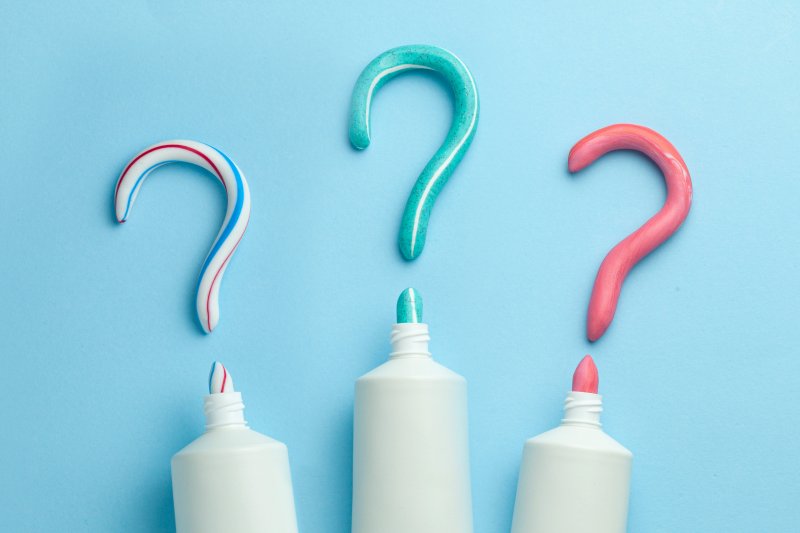 Should you go with the tartar control? Fluoride? Teeth-whitening properties? All-natural ingredients? It's overwhelming trying to figure out which one to choose!
Ultimately, your choice boils down to your distinct oral health needs and what your desired results are for YOUR smile.
Here are four tips to consider when searching for a toothpaste that best meets your needs.
Find the ADA Seal of Approval
When a toothpaste has the American Dental Association stamp of approval, that means the product has been evaluated for its safety and effectiveness by the ADA Council on Scientific Affairs. Frankly, you should be looking for ADA approval on any dental product.
Consider Your Specific Needs
It's important that you carefully consider all your options when choosing the best toothpaste to target your needs. Additionally, it may be beneficial to have your dentist help you weigh out the pros and cons of each toothpaste to help you make an educated decision.
Ask yourself the following questions to better understand what's best for you and your family:
Do you have sensitive teeth and/or gums?
Do you want to whiten your teeth?
Are there specific needs you want to target? (plaque buildup, gingivitis, or other gum diseases)
Do you need tartar protection?
Choose Toothpaste with Fluoride
If there's one ingredient you need to have in your toothpaste, it's fluoride. This cavity-fighting mineral is fundamental to oral health and helps protect your enamel. According to the ADA, you should be brushing your teeth twice a day with fluoride toothpaste.
Some all-natural toothpaste avoid using fluoride under the assumption that the ingredient is harmful to your teeth. Numerous studies have debunked this myth and found that fluoride-free toothpaste is much less effective at maintaining strong oral health, leaving your teeth at a higher risk for tooth decay.
Know Which Toothpastes to Avoid
Do you know the one major ingredient to stay away from when choosing toothpaste? If you guessed abrasive particles, then you are correct.
Mild abrasives are used in toothpaste to break up plaque, eliminate stains, and polish teeth. Whitening toothpaste is largely guilty of using this ingredient — they're highly abrasive and should be avoided. If you have sensitive teeth, you should actively stay away from these kinds of toothpaste as they can irritate or worsen tooth sensitivity.
If the color of your smile is a significant concern to you, consult with your dentist about in-office whitening treatments that are gentle, safe, and effective on your smile.
Good toothpaste is a crucial part of your daily oral care routine. Searching for the right one can be overwhelming at first, but once you find the "perfect" one, your smile will be looking and feeling better than ever.
About the Author
Annigan Dental provides patients with exceptional dental care and services in an inviting, comfortable, and modern environment. Dr. Henry Hsue and his team work hard to provide clients with personalized, high-quality care using advanced technology designed to make treatments smoother and more comfortable than ever before. Annigan Dental offers preventive services, where potential dental issues are not only treated but prevented. If you would like to explore additional preventive options beyond toothpaste, Dr. Hsue can be reached at his website or by phone at (425) 492-6898.
Comments Off on 4 Tips on How to Choose the Right Toothpaste for You
No Comments
No comments yet.
RSS feed for comments on this post.
Sorry, the comment form is closed at this time.