April 17, 2021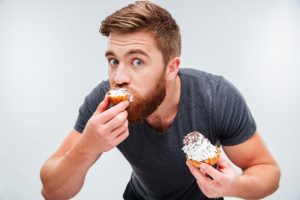 Do you find yourself craving snacks between meals? If so, is it really a big deal to indulge and nibble on a few of your favorite delights? It turns out that snacking can impact your teeth and gums. Continue reading to find out how and discover what you can do to maintain optimum oral health.
The Big Issue with Snacking
Every time you eat, your teeth are bathed in food particles. Although the enamel (the hard-outer layer) is extremely strong, it can wear down over time. This is especially the case when your teeth aren't allowed time to recover from a previous meal. Food that clings to the teeth and along the gum line eventually converts to sugar. This attracts bacteria, and as they feed on the leftovers, they release harmful acids that contribute to decay.
Thankfully, your body has a built-in defense system in the form of saliva. The clear fluid is produced when you're about to eat. In addition to helping with digestion, it contributes to ridding your mouth of leftover debris. While this is a helpful internal mechanism, it can't compete with constant eating throughout the day.
Tips to Prevent Snacking
Here are some simple strategies for breaking your snack habit:
Eat slower – When you eat slowly, it allows for a hormone called ghrelin to be released. It tells your brain that you're full, which helps to better control your appetite and prevent snacking between meals.
Consume more protein – By increasing your protein intake, you can better stabilize your blood sugar levels. By preventing insulin spikes, you can experience greater satiation between meals, which means less snacking.
Increase your water intake – Many times, dehydration can trigger a false hunger sensation. When you feel the urge to snack, take a moment to drink a glass of water to help determine whether you're really hungry.
Healthy Snack Alternatives
For the times when you allow yourself to enjoy a snack, there's a way to strike a balance between your diet and oral health. Consider eating more fruits and vegetables and drinking sugar-free beverages. This will be far less detrimental to your teeth and gums.
Another way to fight cavities is to practice excellent oral hygiene after consuming any type of food or beverage. This should include brushing and flossing your teeth. In doing so, you can stop any potential issues in their tracks. Then, when you visit your dentist for regular check-ups, you can receive confirmation that your proactive efforts have paid off!
About the Author
Dr. Henry Hsue earned his dental degree from Boston University School of Dental Medicine. Not one to rest on his laurels, he has taken hundreds of hours of continuing education to further expand his knowledge of the latest tools and techniques in dentistry. A member of the Academy of General Dentistry, Washington State Dental Association and several other professional organizations, Dr. Hsue offers preventive and restorative dental care at Annigan Dental, and he can be reached for more information or to schedule a visit through his website.
Comments Off on Is It True That Snacking is Bad for Your Teeth and Gums?
No Comments
No comments yet.
RSS feed for comments on this post.
Sorry, the comment form is closed at this time.