October 5, 2020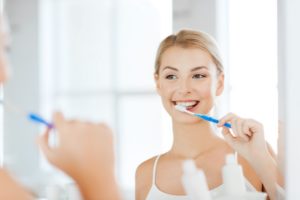 Did you know your smile can stay healthy for a lifetime with the right care over the years? Unfortunately, there are 3 common issues that can harm your smile. There isn't any reason to worry. With the proper oral hygiene at home and the help of your dentist, you can avoid the most frequent oral health problems in Bothell. Here's how you can enjoy lifelong dental health.
1. Cavities
Tooth decay is the biggest threat to your smile. Although it's preventable, at least 92% of adults have had a cavity in a permanent tooth. Dental caries is caused by the sugars found in the foods and drinks you consume. When they combine with your saliva, it creates an acidic plaque that will erode your enamel if it's not removed regularly.
You can lessen your risk of tooth decay by committing to your oral hygiene at home. It's best to use a soft-bristled toothbrush and fluoride toothpaste to clean all surfaces of your teeth at least twice a day. It's best to brush for at least 2 minutes each session. Don't forget to floss every night and visit your dentist at least twice a year for preventive care. Your dentist can detect areas of weakened enamel while they are still small to provide the right intervention, like a fluoride varnish.
It's best to eat a balanced diet that's limited in sugars and starches. If you can't ignore your sweet tooth, brush your teeth immediately afterward, or rinse your mouth with water if you can't get to your toothbrush.
2. Gum Disease
Next to cavities, gum disease is equally devastating to your smile. The preventable infection destroys the supporting structures of your teeth and can enter your bloodstream, increasing your risk of several health issues, like cardiovascular disease.
Gum disease is preventable, but at least 50% of adults have a form of it, making it the leading cause of tooth loss in the U.S. You can significantly decrease your risk of the infection by flossing in between each tooth before going to bed. You'll remove any plaque or bacteria left behind by your toothbrush to keep your gums healthy.
3. Oral Cancer
There are approximately 45,000 cases of oral cancer diagnosed each year. Sadly, the long-term survival rate is low compared to other cancers because it often isn't found until it has reached advanced stages or metastasized. Dentists can detect as much as 80% of new cases early through routine oral cancer screenings. Even if you don't think you're at risk because you're not a smoker, it's best to have a screening at each preventive appointment.
Invest in a Healthy Smile
You can invest in lasting dental health through a proactive approach. You can ensure your smile lasts for a lifetime by maintaining your oral hygiene and regular care from your dentist.
About Dr. Henry Hsue
Dr. Henry Hsue earned his dental degree from the Boston University School of Dental Medicine, where he graduated with high honors. He focuses on prevention using the art and science of dentistry. If it's time for your next preventive visit, contact our office today to schedule an appointment.
Comments Off on 3 Common Oral Health Problems
No Comments
No comments yet.
RSS feed for comments on this post.
Sorry, the comment form is closed at this time.