August 17, 2020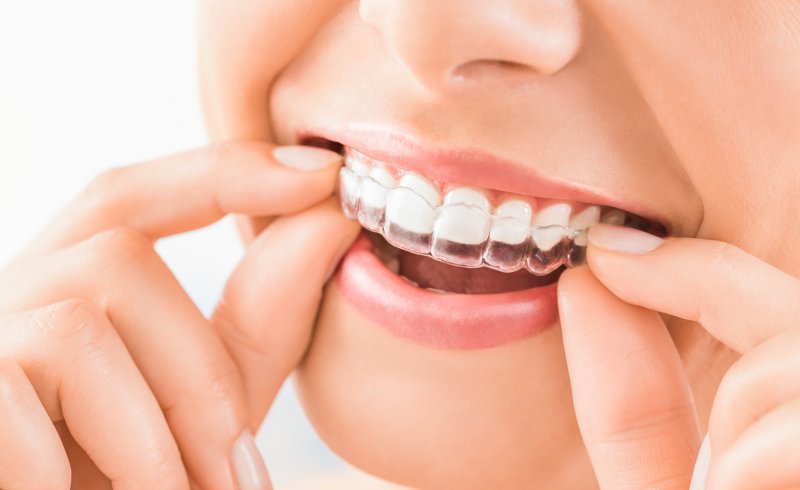 Invisalign is a great option for older teens and adults to straighten their smiles. However, alike any other teeth straightening option, it doesn't just happen overnight. It takes time and small amounts of pressure to more your teeth into the position that you've been wanting. "Tracking" describes how your teeth move in accordance with your Invisalign treatment plan. If you begin to notice gaps between your teeth and aligners during your treatment, this could mean that they aren't tracking properly. This can happen for a variety of different reasons. Here are some tips to help you get your Invisalign in Bothell back on track.
Wear Your Aligners for 22 Hours Every Day
If you have gaps between your aligners and teeth, it's possible that you haven't been the most diligent about wearing them all the time. Remember that you should be wearing your aligners for at least 22 hours each day. If you start neglecting this, your teeth will not be moving as fast and aren't as likely to keep up with the progression of your treatment.
Use Invisalign Chewies
Chewies are soft, flexible rolls of material that look similar to an earplug. After you put your trays back in when you're done eating or brushing your teeth, place one in your mouth and chew on it for a few minutes. After some time, they can force the aligners over your teeth and into the proper position. This is especially useful after you get a new set of aligners and they are a much tighter fit than your previous ones.
Ask About Backtracking
If you are falling behind in your treatment and you can tell that your teeth are off track due to improperly wearing your aligners or your teeth not shifting quickly enough, ask your dentist about backtracking. This is when you swap your current trays out for your previous set. This way, you can wear the last set for a little bit longer to ensure that your teeth are in the right position to move forward with your treatment.
Invisalign Treatment Revision
In certain cases, your teeth simply aren't moving fast enough to keep up with your treatment. Every smile is different. In this case, you will need to schedule an appointment with your dentist. You will have your mouth reassessed so you can be given a revised treatment plan. You may be issued new aligners so you can get on a new track towards a straighter smile.
If you're Invisalign treatment has fallen off track, try some of these useful tips. By working with your dentist and staying committed to your treatment, you will have the smile you've been hoping for in no time!
About the Author
Dr. Henry Hsue provides a wide array of services, including Invisalign, at his practice in Bothell, WA. He graduated with High Honors from Boston University School of Dental Medicine and has taken hundreds of hours of continuing education ever since. He is an active member of numerous organizations including the American Dental Association and the Academy of General Dentistry. For more information on Invisalign or to schedule a consultation with Dr. Hsue, visit his website or call (425) 492-6898.
Comments Off on 4 Tips to Get Back on Track with Your Invisalign Treatment
No Comments
No comments yet.
RSS feed for comments on this post.
Sorry, the comment form is closed at this time.