January 7, 2020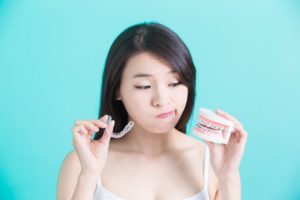 According to a recent survey conducted for the American Academy of Cosmetic Dentistry, 48% of Americans agree that a person's smile is their most memorable feature when making a first impression. In fact, numerous studies around the world report that a beautiful smile can make you appear healthy, self-assured, and trustworthy. Unfortunately, it can be difficult to make a good first impression if you're embarrassed by your crooked teeth or a mouthful of bulky traditional braces. Thankfully, metal wires and brackets aren't the only way to improve your smile anymore. Invisalign in Bothell offers a comfortable and effective treatment that won't make you feel self-conscious as you get straighter teeth. Find out why more than 7 million people have chosen to get the smile they've always wanted with these clear aligners.
You'll Look and Feel Great
Perhaps one of the best things about Invisalign is that you don't have to sacrifice your looks in the present to get a better smile in the future. These clear plastic aligners are designed to fit precisely over your teeth, becoming almost invisible in your daily life. This way, you can talk, smile, and laugh without worrying about showing off a mouth full of metal. Using Invisalign can improve both your looks and your self-confidence at the same time.
More Freedom and Fewer Restrictions
Wires and brackets can easily be damaged by sticky or crunchy foods, so wearing traditional braces requires you to adjust your diet accordingly. Since Invisalign aligners can be removed whenever you eat or drink, you don't have to give up your favorite foods during treatment. Simply take them out, enjoy all the chips, nuts, and gum you like, and then pop them back into place after a quick brushing.
Removing your aligners also allows you to continue enjoying your favorite sports and hobbies. Traditional braces often get in the way of playing instruments like the trumpet or flute and can easily break while playing sports like football or basketball. As long as you wear your Invisalign aligners for at least 22 hours every day, you can remove them whenever you need to, whether it's before practice, a concert, or a game.
They're a Cleaner and More Comfortable Alternative
A recent study from Texas A&M University revealed that Invisalign users report much lower levels of discomfort than those with traditional braces. Not only do the alignment trays gently shift your teeth into place, but they also lack any sharp, protruding points that can irritate your soft tissues. Traditional braces also easily trap food particles in areas that are difficult to clean, which can end up causing cavities. Without a tangle of wires and brackets to clean around, Invisalign can help keep your teeth healthy as they're being straightened.
Clunky, awkward metal braces aren't your only option for straighter teeth. Enjoy the process of getting the smile you always wanted with the help of Invisalign!
About the Author
Dr. Henry Hsue of Annigan Dental has been serving Bothell, WA and the surrounding communities for over a decade now. His dedication to the craft has earned him many clinical and academic awards of excellence and inspired him to complete hundreds of hours of continuing education. Even with all his accomplishments, he is most proud of personally helping his patients achieve the smile of their dreams with services like Invisalign clear braces. If you'd like to learn more, he can be contacted at his website or (425) 492-6898.
Comments Off on Invisalign VS Traditional Braces: The Choice is Clear
No Comments
No comments yet.
RSS feed for comments on this post.
Sorry, the comment form is closed at this time.