November 16, 2019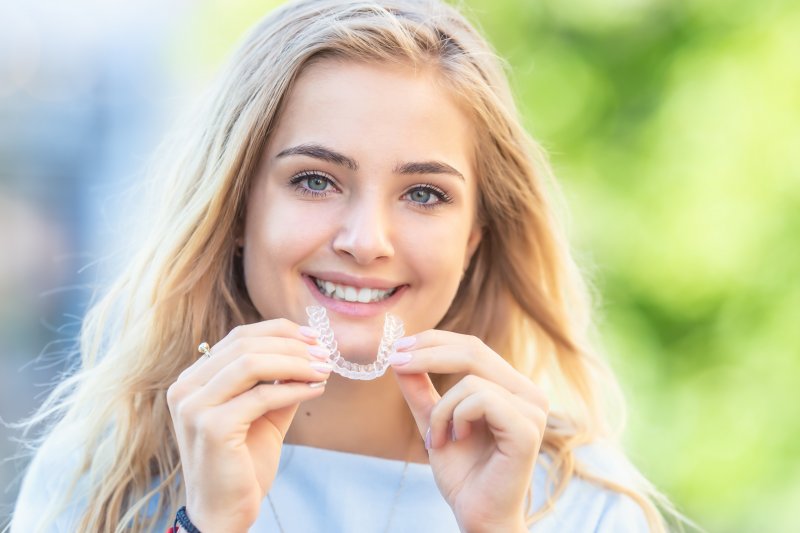 In the past, traditional metal braces were the only way a person could achieve a straighter smile. Nowadays, with advancements in dentistry and technology, individuals looking to improve the aesthetics of their smile can do so discreetly with Invisalign or Six Month Smiles. Which method of cosmetic dentistry in Bothell is right for you? Read on to find out.
What is Invisalign?
Invisalign in Bothell uses clear, plastic trays that are designed to gently shift your teeth into a more aligned position with 12-18 months. Depending on the severity of your orthodontic issue, this timeline can be shorter or longer, but you can expect to see dramatic results much quicker than with traditional braces.
Not only are Invisalign aligners removable, but they are easy to clean and offer a more subtle, discreet way to improve your oral health without comprising your appearance.
What is Six Month Smiles?
With Six Month Smiles in Bothell, the process is much quicker because only the teeth that are visible are being treated. Six Month Smiles is more closely related to traditional metal braces, but instead of silver wire, they use clear brackets and a thin tooth-colored wire. This makes it much harder for anyone to notice during your treatment, which will last only six months, on average.
What Are the Advantages and Disadvantages of Both?
No matter which method of cosmetic dentistry you choose, you can expect a more beautiful, healthier smile as a result. Both Invisalign and Six Month Smiles have their own advantages and disadvantages, so when you meet with your orthodontist, it is important that you understand all the pros and cons before making a decision.
Some of these include:
Timeframe: While much of the timeframe depends on each person's own orthodontic issue, Six Month Smiles is designed to take only six months, on average, to complete. Whereas, Invisalign can take anywhere from 12-18 months.
Cost: Although the cost will vary from patient to patient, you can expect Invisalign to be more costly because of the longer treatment and necessity for multiple aligners.
Flexibility: With Invisalign, you are instructed to remove your aligners prior to eating, drinking, or cleaning them, making it much easier to eat the foods you enjoy. Six Month Smiles are affixed to your teeth, so you may find it more difficult to eat certain foods because of the likeliness that pieces will get lodged between your brackets and wires.
Care: When wearing Six Month Smiles, you will likely need a floss threader to help you clean in-between your teeth or even a water flosser. With Invisalign, you clean your teeth and gums as you normally do. To clean your aligners, all you need is a toothbrush, clear soap, and lukewarm water.
Discreetness: While both options provide a more subtle method of treatment in comparison to traditional braces, Invisalign tends to be more discreet than Six Month Smiles because there are no brackets or wires involved.
Your dentist will help you decide which cosmetic treatment is best for your individual needs. After a thorough examination and discussion of your goals, you will be on your way to an improved smile you can be proud to show off.
About the Practice
At Annigan Dental, our team of dental experts will help you develop and maintain a smile you can be proud to show to the world. Want to straighten your teeth or fix an improper bite? Thanks to Invisalign and Six Month Smiles, you have options that can help you achieve a healthier, more beautiful smile. To find out more about these available cosmetic services, contact us at (425) 492-6898.
Comments Off on Invisalign or Six Month Smiles: Which One is Right for You?
No Comments
No comments yet.
RSS feed for comments on this post.
Sorry, the comment form is closed at this time.