July 12, 2019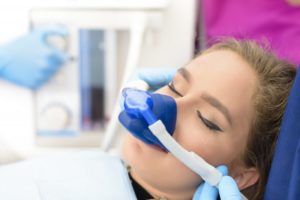 If the thought of the dentist poking around in your mouth makes you seize up in fear, you're not alone. Millions of Americans skip out on their dental appointments every year because of anxiety. You might benefit from sedation dentistry to soothe your worries about seeing your dentist. A sedation dentist in Bothell is here with 4 interesting facts about sedation that you might not know.
1. There Are 2 Different Kinds of Sedation
The first kind is called nitrous oxide sedation, or "laughing gas." You'll wear a mask over your nose and breathe in the gas that makes all of your worries evaporate. The level of gas you're inhaling will be monitored for the entire procedure. After you remove the mask, you should feel back to normal in 15 minutes or less. That way, you can drive yourself back to work or home. If you have minor dental anxiety or just need help suppressing your gag reflex, nitrous oxide might be right for you.
The second kind is known as oral conscious sedation. Your dentist will prescribe a pill that will relax you. You'll take it before you arrive at your appointment. During your procedure, you'll be awake, but in a state of relaxation so deep you probably won't remember what happened. The effects of the pill will last several hours, so you'll need someone to drive you to and from the office. Oral conscious sedation is recommended for patients with moderate to severe dental anxiety.
2. Sedation Dentistry Has Been Around for a Long Time
Nitrous oxide has been used to soothe dental patients' worries since the mid-1800s. Since then, treatment options have only gotten better and more accurate.
3. Sedation Is Useful for More Than Just Anxiety
Sedation can also help with patients who:
Have a sensitive gag reflex
Are young or unable to cooperate
Can't sit still in the dental chair
Are undergoing several extensive treatments in one appointment
4. Sedation Dentistry in Bothell Is Safe
It's understandable to worried about whether sedation is safe, but there's no need to fret. Your dentist will continually monitor you while you are under nitrous oxide. They will also go over your medical history in detail to make sure no complications could arise from either type of sedation.
If you haven't been to the dentist in a while due to anxiety, call and ask them about sedation dentistry. it will allow you to finally get the care you need, completely stress-free.
About the Author
Dr. Henry Hsue graduated with High Honors from Boston University School of Dental Medicine in 2004. Since then he has accrued hundreds of hours of continuing education so that he can come closer to mastering his craft. His practice offers both nitrous oxide and oral conscious sedation to soothe your dental worries. Dr. Hsue can be reached on his website or at (425)-492-6898.
Comments Off on 4 Interesting Facts About Sedation from Your Sedation Dentist in Bothell
No Comments
No comments yet.
RSS feed for comments on this post.
Sorry, the comment form is closed at this time.