June 9, 2019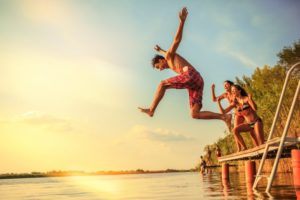 Between the longer days and the endless activities you have planned, summer can be one of the most exhausting times of the year. If you suffer from sleep apnea in Bothell, it can make it difficult to get the rest you need to power through the day. There's nothing worse than trying to keep upbeat on your summer adventures when you're really exhausted. Luckily, your dentist has some tips to help you get the most out of the nice weather.
Rise and Shine Like The Summer Sun
One great thing about summertime is that the sun rises earlier, so you can enjoy it for longer. When you get up early, you soak up more Vitamin D. Recent research shows that your intake of this vitamin can impact the quality and quantity of your rest as well as improve your overall wellbeing.
Limit Electronics Before Bed
Electronics are woven into our everyday life, but exposing yourself to the light they emit before bed can make it difficult for you to fall asleep. The amount and type of light that is passing through your retinas while you're checking your email or social media notifications actually delays the release of melatonin, a hormone that your brain produces to help you sleep. Before bed, try to limit your use of your TV, cellphone, laptop, and tablet an hour before you lay down.
Exhaust Yourself During the Day
This probably won't be hard to accomplish with all of the activities and trips you have planned this summer, but try to exhaust yourself to make it easier to fall asleep. Swimming and exercising daily can make you look forward to resting at the end of each day.
Establish Your Summer Sleep Routine
During summer, it can be hard to establish set routines because every day seems different. While it's tempting to stay up and go on late-night outings with your friends, a sporadic sleep schedule can throw off your body.
Create a Comfortable Environment to Sleep in
Certain people have comforts that help them fall asleep at night. Whether it's white noise or complete darkness, why not give your body what it needs to get some rest? Take the day to make your room clutter-free, get some blackout curtains, and set the temperature to 68 degrees.
As if You Needed Another Excuse to Sleep Naked
Sleeping naked offers you a surprising amount of benefits. Not only does it help regulate your body temperature, but also lowers your blood pressure. Other unique benefits that sleeping naked have is that it reduces women's risk of developing yeast infections and can increase men's sperm count, which can be helpful for couples trying to get pregnant.
Limit Your Consumption of Caffeine and Alcohol
Drinking caffeinated and alcoholic beverages in the morning is fine, but when you start consuming them later in the day, they can interfere with your ability to fall asleep. Alcohol can also impact your ability to reach REM sleep, leaving you feeling tired, even after a full 8 hours of rest.
If you or a family member suffers from poor quality of rest, schedule an appointment with your medical professional to seek a diagnosis. Instead of letting sleep apnea impact your day-to-day life, you'll be able to get the treatment you need from your dentist in Bothell. After all, everyone deserves a great night of sleep!
About the Author
Dr. Henry Hsue has been improving his patients' quality of rest since 2004. He believes in offering his patients comprehensive care, including everything from sleep apnea appliance therapy to cosmetic dentistry. As an active member of several professional organizations including the American Academy of Dental Sleep, he focuses on staying up to date with the latest treatments and advancements in his field. For questions or to schedule an appointment, visit Annigan Dental's website or contact 425-492-6898.
Comments Off on 7 Tips to Ease Your Symptoms of Sleep Apnea in Bothell
No Comments
No comments yet.
RSS feed for comments on this post.
Sorry, the comment form is closed at this time.