March 9, 2018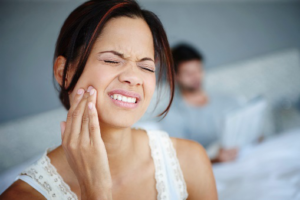 Throughout your life, pain is an unavoidable occurrence, like breaking a bone or stubbing your toe. While these pains will eventually heal and fade, there are others that can linger, decreasing your quality of life. As the years pass, you may expect to suffer from an aching back or another aliment, but what you may not be prepared for is orofacial pain. This involves discomfort that affects the mouth, face, or jaw. When living with this discomfort, it can be related to your dental health. To get the relief you need, it may be time to schedule an appointment with your dentist in Bothell.

What is Orofacial Pain?
Orofacial pain is actually a broad term that is used to describe chronic or reoccurring pain in the face, mouth, or jaw. In the past, it was believed to be an occasional occurrence that was somewhat rare; however, new research suggests that it may be more common than once believed.
A recent study in Oregon focused on those living with the pain and a potential biological cause. The results of the study found that there is a direct connection with a certain pain-signaling protein. Researchers found that a certain protein is released when you are suffering from specific pain in your face, mouth, or jaw. The release of it is caused by your brain receiving a signal that something is not right. As a result, it causes the pain to develop.
With this new information, it provides for more effective treatment for those living with orofacial pain.
What Causes Oral Facial Pain?
Now, it is believed that as much as 95% of those with orofacial pain have a dental issue causing their discomfort. Common reasons for the pain include:
TMJ disorder
Abscessed tooth
Infected or inflamed pulp
Cracked or broken teeth
Jaw injuries
Gum disease
Oral cancer
To stop the discomfort, your dentist must find the underlying cause of the pain to create a customized treatment plan.
How Can I Stop Orofacial Pain?
After performing an initial examination, your dentist can detect the exact issue causing your pain, like gum disease. Now, a customized treatment plan can be created to resolve the underlying problem. In some cases, you may need multiple treatments, such as gum disease therapy and treating the damages it has caused to the teeth. Your dentist will determine which treatments will benefit you the most to stop your pain.
Restore Your Quality of Life Today
If you are tired of living with orofacial pain, you can get the relief you need with your dentist. Restore your quality of life today!
About Annigan Dental
At Annigan Dental, we are committed to helping our patients feel their best through improved oral health. We provide a wide range of services to keep your teeth and gums healthy. In addition, we can treat more complex issues, like orofacial pain, to restore your quality of life. No matter if you need a dental cleaning in Bothell or need to find the cause of your discomfort, we can help. Contact our office today to schedule your consultation.
Comments Off on Your Dentist in Bothell Treats Orofacial Pain
No Comments
No comments yet.
RSS feed for comments on this post.
Sorry, the comment form is closed at this time.