December 9, 2017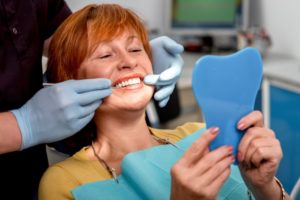 As you walk into the dentist office for your consultation on dental implants, you're worried about your eligibility. Over the years your jawbone has been showing signs of weakness, but you don't want to settle for dentures. You've been looking for a more permanent solution and no other restorative treatments can match.
Your dentist has good news. Even in cases of osteoporosis, dental implants can be a viable solution to restoring your smile.
A Study Exploring the Link Between Implants and Osteoporosis
The Journal of Oral Implantology published an article recently about a study on osteoporosis and dental implants. The study was intended to confirm whether women being treated for osteoporosis could successfully hold a dental implant. The treatment includes a class of drug called biophosphonates, which can have major complications that already affect weak bones.
The study focused on how much additional risk a patient would be taking if they received an implant while taking these drugs. It followed 24 postmenopausal women who had lost most of their teeth, half of which were taking biophosphonates and half who were not. After extracting their remaining teeth, dentists placed dental implants in all of them and observed them for one year. After a year passed, they examined them for signs of dental implant failure.
The Conclusion
The study confirmed that the dental implants were still working in patients taking biophosphonates for osteoporosis. According to the authors, the results were completely successful. Any bone loss that had occurred was similar among both groups and all women had good contact between the implants' surface and the bone.
It's worth mentioning that in this case, dental implants were placed shortly after the remaining teeth had been removed. However, the study proves that it is possible to decrease the risk of serious complications among patients taking biophosphonates for osteoporosis. Compared to other restorative treatments, dental implants are considered to be the most ideal solution for missing teeth.
The Only Method That Promotes Bone Growth
Unlike dentures, dental implants are designed to protect your existing healthy bone. Leaving gaps in your mouth can actually cause your jawbone to become weaker and lose firmness more quickly, so the sooner you replace missing teeth, the better off your jawbone will be in the long-term.
Dental implants are also the only restorative method that preserves and stimulates your remaining bone, so dental implants actually helping to stimulate bone growth and prevent bone loss.
Don't let women's health issues get in the way of rebuilding your smile. Contact your dentist today for a consultation for dental implants!
About the Author
Dr. Henry Hsue, DMD, graduated from the University of California San Diego with a Bachelor's degree in Molecular Biology. He eventually went on to earn his dental degree from the Boston University School of Dental Medicine and receive many clinical and academic awards of excellence. Since then, he has taken hundreds of hours of advanced education courses to master the art of dentistry and provide his clients the best dental care possible. To learn more about his practice, contact him at (425) 549-9671 or visit his website.
Comments Off on How Dental Implants Can Work Even If You Have Osteoporosis
No Comments
No comments yet.
RSS feed for comments on this post.
Sorry, the comment form is closed at this time.