October 28, 2017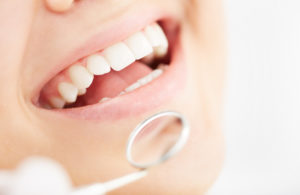 Do you floss your teeth regularly? It's an absolutely crucial aspect of clean, healthy teeth, but let's be honest — many people don't. And when people do clean between their teeth, it turns out they often choose some strange methods. The American Dental Association recently published an article about a new survey that reveals the "unusual flossing habits" of people in our country. Dentists everywhere shudder to think about…
Fingernails
Index cards
Cutlery
Safety pins (!)
A strand of hair
…being used as a substitute for dental floss. Not only are your teeth and gums in danger when you're forcing anything between them, but you're also spreading bacteria and opening yourself up to the risk of infection when you use something like a fingernail to clean your mouth.
This survey is a great reminder to clean between teeth with good old-fashioned dental floss every single day. Doing so will keep your smile cleaner and reduce the chances that you will be tempted to resort to whatever is closest to you when you're away from home.
Flossing the Right Way
Patients of all ages should floss between teeth at least once daily, preferably at night before bed. People who have crowded teeth or who are at a higher risk of cavities may benefit from more frequent flossing. It doesn't really matter if you floss before or after you brush your teeth, as long as you're doing it.
To floss correctly…
Use a new piece of floss that's about 18 inches long. Many people don't use enough of the stuff to get a thorough clean.
Wrap half of each side around your middle or index fingers, leaving a space about one inch wide to floss with.
Gently work this bit up, down, and around the base of two teeth. Think of yourself as scrubbing away plaque and bacteria from each angle.
Move to a new area of floss after each tooth to avoid simply redistributing bacteria.
Don't forget to clean behind the very last tooth, too.
Create a Flossing Habit
One of the most difficult things about flossing is, well, remembering to do it. Developing a positive habit is all about triggering the action, so leave the floss somewhere you're sure to see it at night, like right beside your toothpaste. Commit to using it before you fall asleep. Alongside routine brushing and six month visits to your dentist, flossing with dental floss can help you enjoy a clean, healthy smile for years and years to come.
So the next time you're tempted to clean between your teeth with a fingernail, twig, or whatever else happens to be nearby — just don't. Your dentist says wait until you get home!  
About the Author
Dr. Henry Hsue is a Bothell, WA general dentist providing comprehensive care for patients of all ages. He stresses the importance of solid oral hygiene — including thorough flossing — for everyone. To learn more about Dr. Hsue's services or if you are searching the web for a high quality "dentist near me," you are invited to contact Annigan Dental at 425-549-9671.
Comments Off on Dentist Advises Against These Flossing Habits
No Comments
No comments yet.
RSS feed for comments on this post.
Sorry, the comment form is closed at this time.