August 15, 2017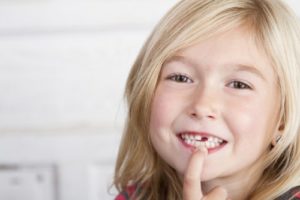 Did the tooth fairy ever visit you when you were a child? You might have gone to sleep with a lost tooth under your pillow only to wake up to find that it had been replaced by money! While this tradition might seem silly to adults, kids love the idea, and you can use the concept of the tooth fairy to help your little ones care for their oral health. Since August 22nd is National Tooth Fairy Day, your dentist in Bothell is here to give you tips on how to use the old story to help your kids have healthy, happy smiles.
Healthy Teeth Are Worth More
You might tell your children that healthy teeth are worth more when they finally fall out. After all, why would the tooth fairy want something that's full of cavities? If she normally leaves a quarter for a lost tooth, she might leave a dollar for one that is particularly good-looking.
Using this method does more than encourage your children to brush and floss. It will also give them a little lesson in economics as well!
The Tooth Fairy Leaves Notes
Sometimes, parents are the last people whom children are inclined to listen to. They might be more likely to give weight to a message that comes from a pretty little fairy in a poufy dress. Get some fun stationery and leave little notes for your children from the fabled creature.
You might write a note of congratulations if your child starts brushing their teeth or flossing without needing to be reminded. Or, you could send a nice word if your child has the self-discipline to limit how much sugar they eat.
The Tooth Fairy Communicates With Parents
Sometimes, kids try to be sneaky. If your children are trying to convince you that they've brushing and flossing when you know they're neglecting good habits, you can tell them that the tooth fairy let you know what's going on.
The Tooth Fairy Works With Your Family Dentist
If your children hate going to the dentist, the tooth fairy might give them the incentive they need to cooperate when it's time for their regular cleanings and checkups. After all, your family dentist in Bothell is the tooth fairy's assistant, and the fairy won't be happy if she finds out that your children are avoiding her trusty coworker.
What If Your Kids Don't Believe?
Thanks to the media or other influences, your child might not believe in the tooth fairy — and that's all right! You should be proud that they are logical enough to see through the fantasy. Instead of using the tooth fairy, you could offer other incentives for good oral health habits. You could reward them with little gifts and generous commendation — and maybe a bit of money when they lose a tooth.
The tooth fairy may help your children learn good dental habits. Why not introduce her to your little ones?
About the Author
Dr. Henry Hsue at Annigan Dental is happy to work with the tooth fairy to help the entire family have healthy smiles. If it's time for your child's next checkup, contact our office at 425-549-9671.
Comments Off on Your Dentist and the Tooth Fairy Work Together to Promote Great Habits
No Comments
No comments yet.
RSS feed for comments on this post.
Sorry, the comment form is closed at this time.