March 29, 2017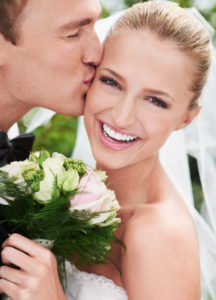 A gorgeous, flowing white gown, pearly white veil, and…. crooked, yellowed teeth? That's not how many brides picture themselves walking down the aisle. Your wedding day is one that you'll never forget with lots of pictures to keep your long-lasting memories fresh. The last thing you want ruining your wedding picture is an overcrowded, discolored smile—or to be too embarrassed to smile at all! Your cosmetic dentist in Bothell wants to make your lifelong memories enjoyable. We have several options to correct the shape, color, alignment, and overall look of your teeth.
Is your smile camera ready?
There are many aspects of a wedding that may have you reconsidering if your smile is ready for your big day. Ask yourself these questions when considering if cosmetic dental services are what you really need to prepare for your wedding day:
Can you imagine yourself saying "I do" if you have chronic bad breath?
Do your teeth overlap, creating awkward dark spots and shadows when you take pictures?
Even though you're making a mature decision, do your short teeth create a child-like smile?
Do you have spaces in your smile that make it difficult to talk in front of large crowds of people?
If you answered yes to any of these questions, you may want to consider meeting with Dr. Henry Hsue. Your dentist in Bothell. Helping you achieve and maintain optimal oral health is always going to be our practice's ultimate goal, but we want you to enjoy how a great smile looks and feels!
What cosmetic services do we offer?
If flaws in your smile—minor or excessive—shouldn't bog down your confidence on your special day. We offer a variety of treatments and procedures to bring your confidence to the next level.
Your cosmetic dentist provides teeth whitening treatments for patients wishing to brighten a smile that's dulled over the years. You can either whiten your teeth quickly in our office or from the comfortability of your own home while prepping for your big day with our doctor-prescribed gradual bleaching treatments.
If you feel like your smile needs "extensive" work, our office can provide even the comprehensive makeover you've always imagined with porcelain veneers. A smile with numerous blemishes can still be repaired by a quick, natural cover of high-quality dental materials.
Some other cosmetic treatments that we offer can bring your wedding day to the next level. If you have a decayed, discolored tooth, we can correct it with tooth-colored fillings. If you're just looking to straighten your teeth in a shorter time than traditional orthodontics allows, consider Six Month Smiles or Invisalign.
Which treatment will work the best for you?
Ultimately, you can only decide if cosmetic dentistry is the next step in your oral health journey. Dr. Hsue makes the best recommendations with an open consultation about your goals. Remember, time is of the essence! Planning for a big occasion like your wedding starts months ahead of time. Get started today by contacting Annigan Dental. We are passionate about building healthy, beautiful smiles for our beautiful bridal patients.
Comments Off on Better Bridal Smiles from Your Cosmetic Dentist in Bothell
No Comments
No comments yet.
RSS feed for comments on this post.
Sorry, the comment form is closed at this time.