January 24, 2017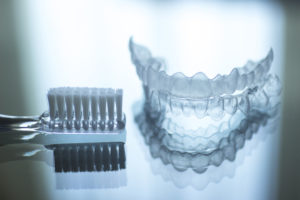 Celebrities are known for their jet-setting, fast-paced lifestyles. With all their public appearances and different projects, they don't have time to wait for perfectly straight teeth. They need a quick, effective, and long-lasting solution for their immaculate red-carpet smiles. But what if you're not a celebrity? What if you're a teacher and basketball coach at Bothell High School who's getting ready to start your Master's Degree? You deserve the same fast treatment for your perfect smile. Luckily for you, Annigan Dental is your trusted source for quality dental treatment and Invisalign in Bothell.
What Is Invisalign?
You've seen the commercials, but you want a 5-star dentist to explain what Invisalign is and how it works. Annigan Dental is here to help. Invisalign is an alternative to traditional metal braces that uses innovative technology to give you your ideal smile. Dr. Hsue will start the process by taking detailed impressions of your teeth, after which you'll view a digital model of what your teeth will look like once you're done. This sneak peek will give you a glimpse at what your smile will look like after Invisalign.
Next, you'll receive a set of customized, clear aligners that you'll wear in sequential order to ensure your teeth are straight in no time. You'll switch to new aligners about every two weeks and be amazed by the quick progress of this straightening method.
How Long Does Invisalign Take?
Invisalign is a superior option for treatment that's fast and produces a great, lasting result. Generally, patients can expect to be entirely done with Invisalign in 12-18 months. Sometimes, patients can complete their treatment in as little as 6 months. With this quick option for straight teeth, you'll see remarkably noticeable results sooner than you'd ever expect, especially when compared to traditional metal braces.
What Are Some Other Advantages Of Invisalign?
Dr. Hsue knows that Invisalign is not only one of the fastest treatment options for perfectly straight teeth, but that these clear aligners also offer patients the following benefits:
Increased Comfort – Since Invisalign is completely customized to you, the thin aligners slide over your existing teeth with ease, giving you a comfortable fit. You'll also never have to worry about wear and tear to the inside of your mouth like you would with traditional metal braces.
Balanced, Unrestricted Diet – With Invisalign, you won't have to worry about giving up the foods you love like you would with traditional braces. You can still enjoy popcorn, caramels, chips, carrots, corn on the cob, and apples, too.
Invisible Treatment – Since the Invisalign aligners are clear, you'll be able to hold your head up high and never wonder if people are looking at your braces instead of you. This tooth-straightening option is hardly noticeable, even by the person wearing them.
Invisalign Is Great For Celebs, But What About Real People?
Since Invisalign sounds like a dream treatment for straight teeth, perhaps you think this is all too good to be true. You can understand why celebrities would be willing to try it out, but wonder if real people can get the same results. Check out this personal story of a regular person (just like you) who's had an overwhelmingly positive experience with Invisalign.
Now that you know how fast and reliable Invisalign is, what are you waiting for? Schedule your appointment with Annigan Dental and Dr. Henry Hsue today and get the red-carpet smile you deserve!
Comments Off on Want Straight Teeth Quickly? Try Invisalign In Bothell!
No Comments
No comments yet.
RSS feed for comments on this post.
Sorry, the comment form is closed at this time.