October 16, 2016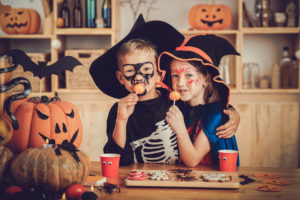 With the holidays right around the corner, you may be thinking of how holiday foods can affect your weight, however what about your teeth? Many of our favorite holiday treats and goodies are not good for our oral health, especially Halloween candy. Dr. Henry Hsue and his team are here to help you navigate holiday foods and your oral health. Your dentist in Bothell discusses holiday foods to avoid.
Halloween
Halloween is a dentist's worst nightmare when it comes to avoiding foods during the holidays. The sticky, chewy, gummy, and hard candy promotes fractures and tooth decay. Sticky treats often lodge in the grooves of your teeth, making it hard for saliva or water to wash away. Hard candies can cause fractures or chipping, especially when you bite down on them.
Make sure your kids trick or treat on a full stomach so they don't end up eating tons of candy throughout the night. If you allow them a few pieces of candy after meals and then brush right afterwards, you have a better chance of removing the sugars, bacteria, and acids that cause tooth decay.
Thanksgiving and Christmas
The same rules apply to the sweet treats during these holidays – eat them with meals, and brush right after. Some of the worst culprits to be aware of are:
Egg Nog – this tasty Christmas beverage tends to be very high in sugar
Candy Canes – a double whammy because if you suck on them you're bathing your teeth in sugar, while biting them could cause fractures or chipping
Carbonated Beverages – the acids from these beverages can cause decay and cavities.
Ice Cubes – biting or chewing ice cubes can cause fractures, or even cracks in your teeth.
At Annigan Dental, we're here to be your partners and mentors in achieving and maintaining optimum oral health. We want you to have a great holiday season, and with these tips to keep in mind we hope that you can prevent some of the damage and decay that sometimes results from indulging in holiday foods.
If you should find yourself experiencing a toothache, chip, or other dental emergency we encourage you to contact our office right away, as being proactive may help you avoid further damage or the loss of a tooth.
May all of your holidays be fun and festive, and don't forget to call us and schedule your next appointment!
Comments Off on Your Dentist in Bothell Discusses Holiday Foods to Avoid
No Comments
No comments yet.
RSS feed for comments on this post.
Sorry, the comment form is closed at this time.