September 6, 2016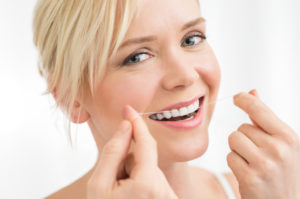 With studies linking periodontal disease to other health concerns such as diabetes, cardiovascular disease, high blood pressure and stroke, we know that there's never been a better time to take charge of your oral health. The best way to do that is to visit your dental team regularly for cleaning and checkup appointments. Dr. Henry Hsue and his team at Annigan Dental believe that prevention is the key to optimum oral health and excellent hygiene is the key to prevention. Your Bothell dentist celebrates National Hygiene Month!
What is Periodontal Disease?
When excessive plaque buildup causes your gum tissue to separate from your teeth, it allows harmful bacteria below the gum line. The bacteria cause inflammation and infection, and over time the tissues and bone that support your teeth begin to deteriorate. Severe cases of periodontal (gum) disease can lead to tooth and bone loss.
How Does Oral Hygiene Prevent Gum Disease?
When you visit your dental hygienist every six months, or twice per year, they'll take the time to remove the excess plaque buildup that causes both gum disease and tooth decay. When plaque is not removed daily, it hardens and becomes tartar, which can only be removed with a hygienist's tools.
Your hygienist not only cleans your teeth, they're also a valuable resource on proper brushing and flossing techniques. Our hygienists take the time to educate patients on the importance of oral health and good home care techniques because we understand that our patients are our partners in excellent oral hygiene. We want to ensure that patients are making the most of their home care routine.
Screening For Oral Issues
At your regular dental appointments, you'll also be screened for oral issues such as oral cancer, tooth decay, and gum disease. Believe it or not, we can detect these issues in much earlier stages than you can, ensuring that you receive the most effective, least invasive, and less costly treatment. All of these issues are best treated early on, and in some cases you may even be able to reverse tooth decay and gum disease by being proactive.
At Annigan Dental, our goal is to help you achieve and maintain optimum oral health for lifetime, which also promotes good overall health and well being. For over a decade Dr. Hsue has been providing high quality dental care to families in Bothell, WA and we'd love to build a relationship with you and your family. Contact our office today to schedule your next appointment.
Comments Off on Your Bothell Dentist Celebrates National Hygiene Month!
No Comments
No comments yet.
RSS feed for comments on this post.
Sorry, the comment form is closed at this time.