May 10, 2016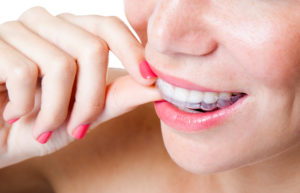 It's easy to get inundated with choices sometimes. The supermarket is a common path to decision-fatigue. There is an endless variety of eggs, bacon, and juices. Your head is spinning and you haven't even decided on breakfast. You have a multitude of choices when it comes to your teeth as well. If your teeth are crooked, what should you use to straighten them: traditional metal braces, or Invisalign? The team at Annigan Dental want to you know how braces stack up against Invisalign in Bothell.
How Does Invisalign Actually Work?
You're probably familiar with metal braces from growing up with people who had them. Traditional metal braces use brackets and wires to straighten teeth by gradually increasing tension. Invisalign, however, uses clear plastic aligner trays to straighten your teeth. A series of trays is made from scans and x-rays of your mouth, and each one is meant to bring your teeth into alignment. Each tray is shaped slightly different in order to fit your teeth at a particular time during the treatment. The trays are worn for about 2 weeks each for 22 hours a day. Depending on the alignment of your teeth when you start, treatment can last anywhere from 8-18 months.
Invisalign vs. Braces
While both Invisalign and traditional braces are very reliable ways of straightening your teeth, Invisalign has a number of qualities that braces do not:
Appearance: The clear plastic aligner trays are nearly invisible when worn, assuring they will not change your appearance like traditional braces do.
Removable: The trays simply slip on and off, meaning you can take them out when you are eating or cleaning your teeth, assuring you do not need to alter your habits.
Comfort: The smooth plastic is much easier on the surrounding tissue of your gums and lips than traditional metal braces.
Speed: Invisalign typically takes less time to straighten teeth than traditional braces.
Invisalign enables people to keep their orthodontic treatment private, as it is very obvious to anyone when you have braces. Adults and young professionals work hard to maintain their image, and it shouldn't be compromised by getting the dental care that they need. Invisalign assures that your orthodontic treatment adapts to your life, not the other way around.
Is Invisalign Right For Me?
The only way to figure out if Invisalign is right for you is to visit your dentist in Bothell, Dr. Hsue, at Annigan Dental. That way he can examine your teeth and see what is the best next step for your smile. Your teeth don't have to be crooked anymore, so give us a call today and see what we can do for you.
Comments Off on Braces vs. Invisalign in Bothell
No Comments
No comments yet.
RSS feed for comments on this post.
Sorry, the comment form is closed at this time.